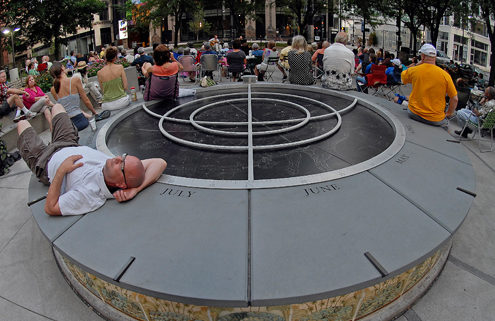 Jose Faus Emily Evans Sloan
Wednesday, September 17
Performances at 11 a.m. ans 12 p.m.
Oppenstein Park, 12th & Walnut, Downtown Kansas City
You are invited to the Lunch Hour Knitting Circle and Café to hear the unknown history of the Cuban missile crisis as revealed in the correspondence of the participants. The documents were discovered under skeins of knitting yarn tucked away in the attic of renowned socialite and knitting maven Genevieve Westover.
Knitting not your thing? That's fine, bring your lunch and indulge in the guilty pleasure of eavesdropping on the private letters, notes and memos of the rich and famous or not.
José Faus is an artist and writer and longtime resident of Kansas City. He is a 2012 Rocket Grant recipient for the community project VOX NARRO and is a founding member of the Latino Writers Collective. He is president of the board of the Writers Place.
Emily Evans Sloan is a photographer, a film maker, a knitter, a performance artist, a curator, a collaborator, a painter, a maker, and a mother of 6. Born in Springfield Missouri, Emily received her BFA in photography at Missouri State University and her MFA in photography at Massachusetts College of Art. Emily's spirited approach to art and life in general, has allowed her to collaborate with other unique, like-minded artists in Kansas City where she has lived the past 25 years.
Click here to learn more about the performance.
These performances are part of Art in the Loop Foundation's 2014 Downtown Street Art/Creative Placemaking Pilot Project, a series of events and art installations with the goal of activating Oppenstein Park and the sidewalks of Downtown Kansas City with innovative, engaging and temporary art. Visit the project website for more information.
For more information about these performances, contact Ann Holliday, program director for Art in the Loop, ann@downtownkc.org or Jessica Borusky, guest curator, jessicaborusky@gmail.com.
Visit https://www.facebook.com/artintheloop/events for more information about upcoming events.
https://www.artintheloop.com/wp-content/uploads/2014/04/artintheloopstardisk_3.jpg
400
495
Ann
http://www.artintheloop.com/wp-content/uploads/2017/04/ArtintheLoopLogoWhite-250x250.png
Ann
2014-09-08 08:17:07
2018-05-17 13:45:46
Poetry in the Park (Oppenstein Park), Wed. 9/17