Two of the artists included in the 2017 Art in the Loop Cue! project will be conducting group activities this week as part of their summer-long art installations- we invite you to join in the fun!
On Thursday, May 25th from 10:00-11:00 a.m., join artist Beth Byrd-Lonski as Clarity Brown, a fun-loving clown who loves to lead people of all ages in silly walking!  Silly Walkways is directly inspired by The Monty Python Flying Circus skit: The Ministry of Silly Walks. This is a chance for everyone to have a light moment in the middle of the street (while staying safe, of course). Clarity Brown is the clown who will encourage you to get down and get back up again as you get from point A to point B. Clarity will begin the silly walk adventure at Crossroads Academy, 1015 Central St and end at the Kansas City Public Library Central Library.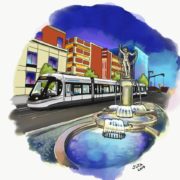 Next, get on your running (or walking) shoes!  Artist Sarah Star has organized a group run, co-sponsored by Run816, set to begin at 6:30 a.m. on Friday, May 26th.  Experience Run the Town:  A Civic Trail with your fellow Kansas Citians, starting from the trailhead at The River Market West KC Streetcar stop, on Delaware between 3rd and 5th streets.  You will be guided by turn-by-turn signs along the route featuring colorful illustrations that playfully blend the rich history of our city with its exciting present. You will be cued to explore the public art and architecture in the area as well.
These performances are free and open to the public, and are part of the 2017 Art in the Loop Project:  Cue! The projects are made possible through the generous support of KC Streetcar; the City of Kansas City, Missouri; the Missouri Arts Council; Arts KC and our corporate sponsors including Stinson Leonard Street, Henderson Engineers, JE Dunn Construction, McCownGordon Construction, Port KC and UMB Financial Corporation. We appreciate in-kind support and guidance provided by the Downtown Council, the Downtown and River Market Community Improvement Districts, KCMO-Public Works Department, KC Streetcar, the City Market, Kansas City Public Library, Kansas City Art Institute, Folk Alliance International and The Bridge 90.9.
For more information about the project, the artists and performance schedule visit www.artintheloop.com, www.facebook.com/artintheloop, or twitter.com/ArtintheLoop.
https://www.artintheloop.com/wp-content/uploads/2017/05/bethsillywalk5.jpg
3472
2700
Ann
http://www.artintheloop.com/wp-content/uploads/2017/04/ArtintheLoopLogoWhite-250x250.png
Ann
2017-05-21 16:32:05
2018-05-17 13:45:07
Run the Town group run and Silly Walkways performance this week from Art in the Loop