Inscribed
Fiction is one of the most powerful ways that we absorb societal cues that can shape our character. How many characters do you carry with you long after, maybe even years after, you've finished reading their story? How do characters, often very different from us, stay vital in our bodies and experiences?
Inscribed, a site-specific dance theater piece for three performers will follow a journey of personal revelation through literature. Using movement and constructed artifacts, the performance will move through stacks of the Central Library and will end in Kirk Hall.
Viewers become participants as they encounter the performers in the library and choose their vantage point. They can watch the performance unfold from the point of view of a single performer or move at their own pace between the three performers. All three performers will converge in Kirk hall for the final section of the work.
Time & Location
Friday, August 4, 2017
5:30 p.m. to 7:30 p.m.
First Friday, Art Starts Here at
Kansas City Public Library Central Library
Performance will move through the book stacks, culminating in Kirk Hall
Bio
Jeramy Zimmerman is the founder and Director of CatScratch Theatre, a scrappy band of misfit dancers. She spent her formative years in Kansas City, but spent most of her adult life in New York City and Washington DC, where she performed, made dances, and created opportunities for other artists by producing dance festivals and performance series. She holds a BFA from Stephens College and an MFA from NYU Tisch School of the Arts, both in dance. In 2016, Jeramy returned to Kansas City and is excited to be part of the expanding performing arts world in her hometown.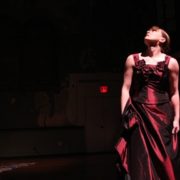 Website: www.catscratchtheatre.org
Facebook: CatScratch Theatre
Twitter: CatScratchThtr