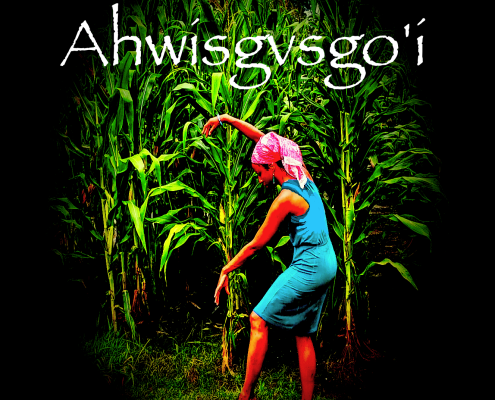 Local artist and choreographer, Maura Garcia, will present "Ahwisgvsgo'i" a dance performance on Thursday, August 25th, between 11:30 and 1:30 pm, in Oppenstein Park at 12th & Walnut St.
"ᎠᏫᏍᎬᏍᎪᎢ (Ahwisgvsgo'i)" means she/he is always planting in the Cherokee language.  Maura Garcia's multi-media project about indigenous planting traditions, the elements and our places in the world.  The idea for Ahwisgvsgo'i came from a desire to explore the process of growing; to strengthen our connection to the natural world and one another; to uplift Cherokee, Mattamuskeet and other southeastern Indigenous traditions; to create great art; to tell good stories.
Originally from North Carolina, Maura is an Indigenous woman (Cherokee/ Mattamuskeet) who brings her own mixed-blood southern story to all of her work. She has been the recipient of numerous honors:  Charlotte Street Foundation's Urban Culture Projects Studio Residency Award (MO) in 2009 & 2010, a guest artist studio award from theUniversity of North Carolina's Department of Dramatic Art (NC) in 2011 & 2012, the Jewish Community Center's Community Arts Fellowship Grant (KS) in 2013, an ArtsKC Inspiration Grant (MO) in 2014, a 2015 Rocket Grant Project Award (KS/MO) and was selected to participate in the Smithsonian's National Museum of the American Indian 2016 Artist Leadership Program. Learn more about Maura at http://www.mauragarciadance.com/.
This performance is free and open to the public and is part of the 2016 Art in the Loop Project: Connect brought to you by the Art in the Loop Foundation with the support of the Downtown Council, Downtown Community Improvement District, City of Kansas City, Missouri, KC Streetcar Authority, Missouri Arts Council, Neighborhood Trust and Development Fund, ArtsKC and many corporate sponsors.
https://www.artintheloop.com/wp-content/uploads/2016/06/ahwisgvsgoi.png
1326
1327
Ann
http://www.artintheloop.com/wp-content/uploads/2017/04/ArtintheLoopLogoWhite-250x250.png
Ann
2016-08-21 08:19:05
2018-06-21 15:04:15
Experience Indigenous Dance in Oppenstein Park