Join us at lunchtime on Wednesday, August 9th for "Cue!", a dynamic dance performance, directed by local artist Jon Michael Johnson.
The performance will take place from 11:30 – 1:30 on-board the KC Streetcar , starting from the Union Station streetcar stop.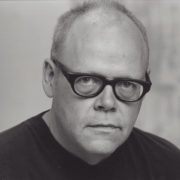 The ride begins and the passengers, along with four dancers,  start to hear the sounds that govern the streetcar. There is the clang of the bell, the announcement, the beep, the whistle. These sounds or "Cues" are what will keep the streetcar and its riders moving and informed.
There are also more random cues: voices, laughter, traffic. Each of these prompts a response from a dancer. Each dancer acts in turn until they are all moving. As the streetcar progresses through the route, a visual braid begins to emerge.
These prompts and responses reveal how our lives, and the different strands we represent, are woven together by Cues! Regardless of cultural background, religion, or politics — we all step back when the oncoming car honks its horn; we all quicken our step when we hear the "ding, ding, ding" of the closing doors.  We all push the same button when we call for a stop.  Our individuality is precious — but perhaps our commonality, revealed by our responses to cues we receive all day, every day, is even more so.
This performance is free and open to the public, and is part of the 2017 Art in the Loop Project:  Cue! The project is made possible through the generous support of KC Streetcar; the City of Kansas City, Missouri; the Missouri Arts Council; Arts KC and our corporate sponsors including Stinson Leonard Street, Henderson Engineers, JE Dunn Construction, McCownGordon Construction, Port KC and UMB Financial Corporation. We appreciate in-kind support and guidance provided by the Downtown Council, the Downtown and River Market Community Improvement Districts, KCMO-Public Works Department, KC Streetcar, the City Market, Kansas City Public Library, Kansas City Art Institute, Folk Alliance International and The Bridge 90.9.
For more information about the project, the artists and performance schedule visit www.artintheloop.com, www.facebook.com/artintheloop, or twitter.com/ArtintheLoop
https://www.artintheloop.com/wp-content/uploads/2017/04/Cue2017.jpg
667
1000
Ann
http://www.artintheloop.com/wp-content/uploads/2017/04/ArtintheLoopLogoWhite-250x250.png
Ann
2017-08-06 16:30:02
2018-05-17 13:45:06
Artist Jon Michael Johnson presents "Cue!" on-board the KC Streetcar, Aug 9