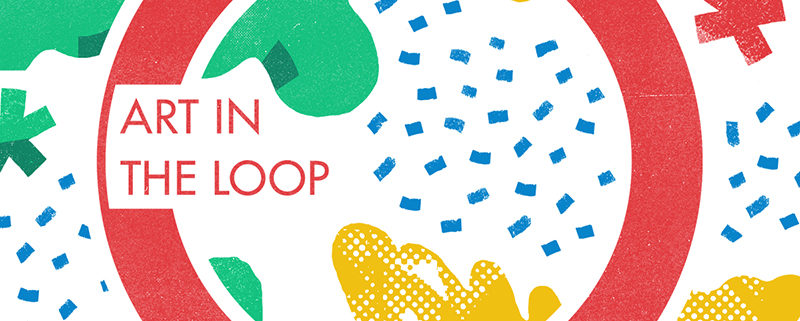 So long, farewell, see you next summer!
Come get sentimental with us as we reminisce about all the great art and artists that participated in the 2018 Art in the Loop summer program!
Whether you are a past or current artist, an enthusiastic art-appreciator, or future Art in the Loop hopeful, the closing reception is a great place to share stories, cultivate new ideas, and interact with the local arts community.
The following artists will make presentations during the program:
Denise DiPiazzo
Annelise Kinney
Daniel Rawlings
Michael Elwood
Stacey Sharpe
Bo Hubbard
Boi Boy
Heather Lowenstein
Emily Evans Sloan
Amy Kligman
Megan Karson
Kriss Young Miller
Alicen Lundberg
Stephen Proski
Monica Dixon
Daniel Chase
Olivia Clanton
David Alpert
Sunyoung Cheong
The closing reception will take place Tuesday, November 6th from 6p – 8p at the Kansas City Public Library, Central Library, Helzberg Auditorium, 14 W. 10th St. 
RSVP at https://www.kclibrary.org/signature-events/final-act-2018-art-loop-project
Be sure to VOTE before you come to the party!
https://www.artintheloop.com/wp-content/uploads/2018/01/Instagram-Art.jpg
800
800
Ann
https://www.artintheloop.com/wp-content/uploads/2017/04/ArtintheLoopLogoWhite-250x250.png
Ann
2018-10-31 08:25:28
2018-10-31 08:26:57
Final Act: 2018 Art in the Loop Project, Tuesday, 11/6, 6 p.m.