A Wonka-Riffic Trip: Spoken word poet and performer, Sheri Purpose Hall is creating her own rendition of the masterpiece Charlie and the Chocolate Factory. The original story enthralled us, the images that Roald Dahl created and the movie interpretations have solidified the fantasy of Willy Wonka's candy emporium. Now Sheri Purpose Hall is reinventing these stories with a contemporary urgency and a new and profound strength.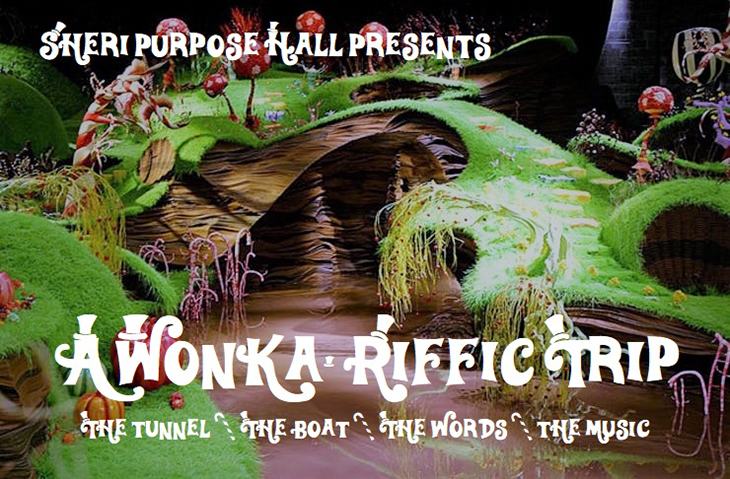 A Wonka-Riffic trip: The Tunnel, The Boat, The Words, The Music— Travel through a Wonka-Riffic tunnel of words, sounds, and images twisting fantasy and reality together. The show combines the poetry of Charlotte Street's 2019 Generative Performing Artist Sheri Purpose Hall and the music of Willy Wonka and the Chocolate Factory performed by a live band. This work will re-envision our current state as a nation and city through poetry and music and nostalgia.
Join us at the Union Station Streetcar Stop for our final Art in the Loop performance of this year. Our world can be as smooth as chocolate and sweet as candy, so join in to make it happen; Saturday, September 7 at 7 p.m.
Click here to add this event to your calendar
After this event, the closing reception on Wednesday November 6 will wrap up this incredible year of Art in the Loop. To find out more about the closing reception, visit us at artintheloop.com.
https://www.artintheloop.com/wp-content/uploads/2019/05/head-shot-Sheri-Hall-e1558454633691.jpg
350
350
Aidan Powers
https://www.artintheloop.com/wp-content/uploads/2017/04/ArtintheLoopLogoWhite-250x250.png
Aidan Powers
2019-09-01 07:08:50
2019-08-23 08:34:11
Sheri Purpose Hall Performs at the Union Station Streetcar Stop, Saturday September 7 at 7 p.m.