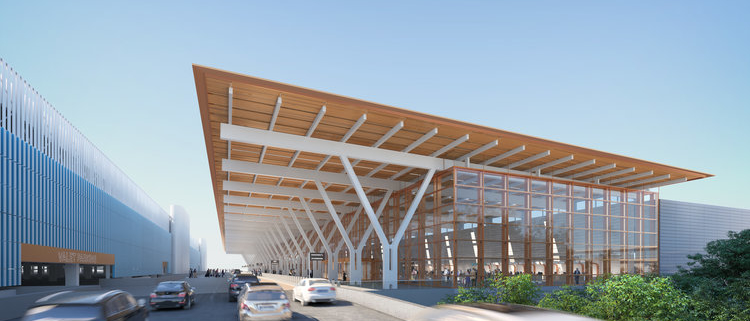 The Kansas City Aviation Department (KCAD) and Paslay Management Group (PMG), in coordination with the City of Kansas City Missouri's One Percent for Art Program, are seeking up to five (5) Kansas City metro-based professional artists (visual and/or performance) to innovatively and thoughtfully collaborate and contribute to the design process for the New Terminal and Parking at KCI. This is a meaningful opportunity for Kansas City-based artists to participate in a significant design process for a major city project.
Up to five (5) Project Advisory Artists will be contracted to participate and will serve on the design planning team with KCAD staff, KCMO City staff, stakeholders and additional sub-consultants.
Length of Commitment: The anticipated length for the Project Advisory Artists' involvement is three months (approx. 30 hours), approximately March 2020 through May 2020.
Compensation: The total budget available per each Project Advisory Artist for this project is not to exceed $3,000. Each Project Advisory Artist will be contracted at $100/hour, not to exceed $3,000. This is inclusive of all time at meetings and any expenses such as transportation to the meetings or other reimbursables.
For eligibility and to learn more, visit http://city.kcmo.org/kc/Ads/Default.aspx. In the AD CATEGORY pull-down menu, go to "Art RFQ/Ps." Press the search button. In the next window, press the Attachments button, and then download "Project No. 62180498 – RFQ/P – New Single Terminal Airport – Consulting Individuals with Artistic Background." To submit your qualifications, follow the instructions inside the RFQ document. Please submit the requested materials and inquiries to .
Submissions due by 5:00pm CST February 21, 2020
Please note that the participating Project Advisory Artists will not be eligible to submit for the One Percent (1%) for Art Program for the New Single Terminal and Parking at KCI project.
For more FAQ information, visit https://www.buildkci.com/public-art-program/.
https://www.artintheloop.com/wp-content/uploads/2020/02/KCI_ApproachRoad.jpg
469
750
Ann
https://www.artintheloop.com/wp-content/uploads/2017/04/ArtintheLoopLogoWhite-250x250.png
Ann
2020-02-03 14:56:38
2020-02-03 14:56:38
KCMO Seeks "Project Advisory Artists" for New KCI Terminal