Emily Bartlett and b.hive theatre
Wednesday, July 20th, 5:30 – 8:00 pm
Oppenstein Brothers Memorial Park
12th Walnut, Downtown Kansas City, Missouri
b.hive theatre is a performance group focusing on playback theatre. This specific mode of theatre was created by Jonathan Fox and Jo Salas as a way to engage with an audience through empathy and reenactment. Pulling from theatrical modes of improvisation, storytelling, and psychodrama, playback theatre is engineered off the verism of real-life stories, creating a vehicle to form connections between performers and their audience. These connections are then reimagined through performance, song, and dance. Playback theatre demonstrates how performance can give a platform to tell stories that might not be the usual subject matter for the bright lights, long curtains, and prosceniums of the theatrical stage. b.hive theatre uses playback for specific reasons.The founders of b.hive theatre, Emily Bartlett and Ross Stone are both licensed Drama Therapists who recognize the importance of theatre and storytelling to connect with a community.
Bio: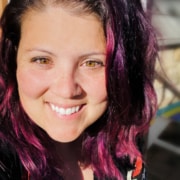 b.hive theatre (yes, we thought it looked better all lower-case) started with two friends who wanted to do two things: really good theatre, and help people.  Thus our collaborative theatre company began! Ross Stone has a Master's Degree in Theatre Arts with an emphasis in Drama Therapy, and is now a Registered Drama Therapist working in the Kansas City area.  Emily Bartlett also has her Master's Degree in Drama Therapy, and is currently a Provisionally Licensed Drama Therapist.
Our first production of completely new material debuted in July of 2017.  7 young adults bravely stood onstage and told their stories.  They poured out their love, their anger, their hopes for the future.  Art was created where it wasn't before. And a group of 60 audience members listened, validated, and applauded.  Art as Activism: A Summer Theatre Intensive is one of many projects we hope to bring to the area again as well as many other creative outlets.