Disco Cloud by Fred Trease
Project Description
My concept for the streetcar wrap is called Disco Cloud. The imagery is derived from a series of drawings I made in joyous celebration of the LGBTQ+ community. They take their inspiration from drag balls, pride parades, the thumping rhythm of a gay bar dance floor and the daily resplendence that can't be ignored. As Mama Rose says "Here she is world!" In addition to the wrap of the exterior of the street car I would like to bring the theme inside in the form of smaller Disco Clouds that will float across seat covers. There is a companion Spotify playlist featuring classic and more contemporary disco music. 
While their origin is in the vitality of my community I believe there is a universal quality that will resonate with many viewers. It is my belief that art connects people. Something in my life goes into my work and resonates in yours and you in me. The world gets better because we see reflections of ourselves in each other.
Location
KC Streetcar 804
Bio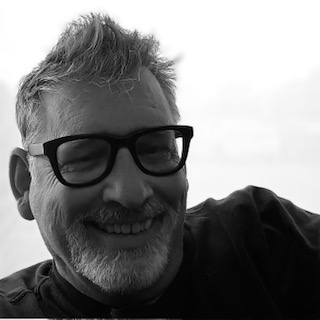 My education has been as a biologist and a sociologist. The majority of my career has been spent in the practice of environmental public health. Whether I was making double exposures with a Brownie as a boy, photographing chromosomes and cells in college or documenting environmental conditions as an adult professional, photography has always been a part of my life. I have come to understand the world through the lens of a camera. 
In 2006 I began exploring the medium as an artistic outlet. For me a photograph is not a static entity, it takes a moment and allows it to be preserved for later contemplation. My images are extracted from daily life and after spending time in my head eventually becoming photographs. In past projects I've explored urban social portraiture without people, captured an entire year in a single work, discovered what the night looks like in my backyard and investigated the landscape of missing buildings. 
In 2013 I began using a tablet to make digital drawings based on my science background. This daily practice has been a portal to greater exploration and self discovery. My work has been shown in a variety of local, regional and national exhibitions and is in numerous collections in the US.
Website | www.fredtrease.com 
Instagram | @fredtrease