Flower Garden by Madeline Marak
Flower Garden Installation
Saturday, July 22
6-9pm River Market West Streetcar Stop
Project Description
The Flower Garden celebrates the process of art-making and public collaboration through a community flower garden made out of colorful and reflective acrylic flowers. The Flower Garden comes to life when participants assemble flower shapes and press them onto the streetcar structure throughout the duration of the installation. The shapes of the flowers are derived from digital scans of kids' drawings created at a children's art studio in Kansas City. The Flower Garden celebrates the act of making as a community to invite everyone into the creative process. Often someone is told they weren't "good" enough to draw or paint so they stopped creating, dreaming, and imagining. As an artist, I often take for granted that creativity isn't present in everyone's life. Public art has the opportunity to make art accessible to all. Celebrating the act of making celebrates the value of creative, individual, innovative thinkers which are necessary to every community. The Flower Garden opens up someone that may be stuck, allows them to reflect, engage with others, and bring the best version of themselves to their community.
Location
River Market West
KC Streetcar Shelter
Bio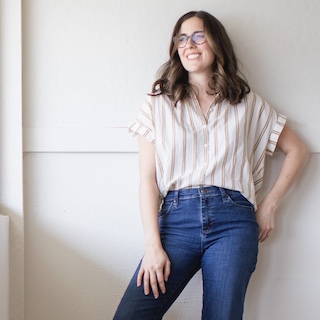 Madeline Marak is from Shreveport, Louisiana. She received her Masters of Fine Art from the Sam Fox School of Art and Design at Washington University in St. Louis and her Bachelors of Fine Art from Tulane University in New Orleans, Louisiana. She has exhibited at Mildred Lane Kemper Art Museum in St. Louis, Contemporary Art Museum in St. Louis, Meadows Museum of Art in Shreveport, Louisiana, Des Lee Gallery in St. Louis, UNO Gallery in New Orleans, Carol Gallery in New Orleans, and more. She has been an artist in residence at Mildred Lane in Beach Lake, PA, Forest Park Forever Artist Residence in St. Louis, MO, Casa Na Ilha Art Residence in Ilhabela, Brazil, Burren College of Art Residency + Programme in Co. Claire, Ireland, and Shreveport Regional Arts Council Summer Artist Residency. Aside from her art practice, Marak has been dedicated to serving her community by teaching for the Noel Methodist Community Art Program, Bossier Parish Community College, serving as Executive Director of the Marshall Regional Arts Council, and Executive Director of the North Louisiana Arts Council. She has recently moved to Kansas City to join the vibrant arts community and continue as a practicing artist.
Website | www.madelinemarak.com 
Instagram | @madelinemarak