Hammerhedd
Hammerhedd is a band of brothers aged 16, 14, and 11, who play heavy metal. They cite their influences as Metallica, Gojira, Megadeath, Anthrax, and Havok, among others.
Date & Location
The performance will take place on Wednesday, July 18, from 5:30 to 7:30 pm at the KC Streetcar Union Station Stop.
Bio
Hammerhedd, comprised of brothers Henry, Eli, and Abe, was first discovered by Kansas Citians after they played a set outdoors at the Plaza several years ago. They have been complimented by Metallica for their talent, and continue to play loud shows around the KC metro.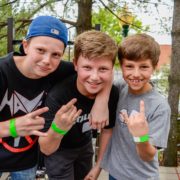 website: http://hammerhedd.wixsite.com/hammerhedd
instagram: @hammerheddKC
facebook: @hammerheddKC