Ahwisgvsgo'i
ᎠᏫᏍᎬᏍᎪᎢ (Ahwisgvsgo'i) means she/he is always planting in the Cherokee language.  It's the name of Maura Garcia Dance's multi-media project about Indigenous planting traditions, the elements and our places in the world.  The idea for Ahwisgvsgo'i came from a desire to explore the process of growing; to strengthen our connection to the natural world and one another; to uplift Cherokee, Mattamuskeet and other southeastern Indigenous traditions; to create great art; to tell good stories.
Location
Garcia will perform in Oppenstein Park at 12th and Walnut on August 25 at 12:00 p.m.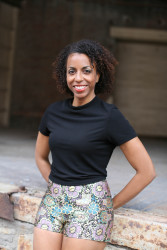 Bio
Dance artist Maura Garcia empowers through movement by presenting contemporary Indigenous performance and working with people to dance their stories of community, strength and love.
http://ahwisgvsgoi.blogspot.com/2015/01/what-dance-discussions-drawings-music.html