NEW ATLANTEAN TOURISM POSTERS
The New Atlantean Tourism Posters depict the questionably fictitious home of the Triangle Head entities. At first glance, the posters camouflage themselves into the normalized barrage of street advertisement; however, upon further inspection, the viewer will discover the hidden whimsy and mystique in each cartoon poster. The viewer is encouraged to think outside the monotony of a daily commute and realize the hidden wonder within oneself and the world around them.
Location:
KC Streetcar, Crossroads Stop (Southbound)
19th and Main St.
Bio:
Evan Maddox is a multimedia installation and performance artist studying film at the Kansas City Art Institute. Inspired by her experiences as a trans woman, she playfully explores the nature of cartoons, commercialism, and conspiracy theories within her growing body of work.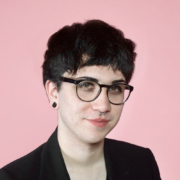 instagram | @shoptrianglehead
vimeo | vimeo.com/triangleheadstudios
web | http://www.triangleheaduniverse.com/