Neon Camouflage
Neon Camouflage is an experiment in the collaboration of two contrasting artistic practices in the urban landscape of Kansas City. The idea is to cover industrial boxes, light poles and benches in vinyl, integrating graffiti inspired shapes within marbled patterning. The marbling references the stone, concrete, and brick structures of downtown Kansas City while the graffiti aspect represents a different aspect of the urban environment. In doing this, these cold structures are enlivened with eye-catching color and movement. The idea is to disrupt the daily grind of those living, working, or just visiting our grey downtown with a fresh and playful installation.
Location
These collaborative installations are placed on various objects in Oppenstein Park. 
Bios
Kevin Perkins attended Central Missouri State University and studied Commercial Art and Graphic Design. After school, Kevin started illustrating, and Painting, and has shown in galleries such as The Late Show, Kultured Chameleon Street Art Gallery, and The Pop- Up Gallery. Kevin is also working towards future shows, and doing large scale mural work in the future.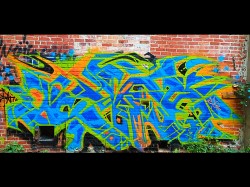 Paige Hinshaw is a visual artist working with a range of materials. She earned her BFA in printmaking from the Rhode Island School of Design in 2012. Hinshaw has co-curated an exhibition at So What Space in Brooklyn, NY and exhibited in New York, Rhode Island, and Kansas City. She recently created STATUARY designs, a brand of one of a kind marbled leather accessories.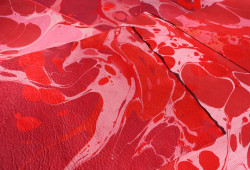 Kevin Perkins: @theXmasviper
Paige Hinshaw: facebook.com/statuarydesigns : www.statuarydesigns.com