Wearable Play
Sunyoung Cheong's installation Wearable Play is an exploration of an environment where children and adults are encouraged to play and utilize their imagination through the assemblage of common objects such as wood, plastic, foam, and fabric to create puzzle pieces and their own unique wearables that then become part of the exhibit. By assembling their own wearable objects, the audience participates in a performance, and their creations become a powerful component of the exhibition.
Date & Location
Performance/Installation will take place on Friday, August 3 at the Kansas City Public Central Library, 14 West 10th Street, from 2:00 to 4:30 and from 5:30 to 7:30.
Bio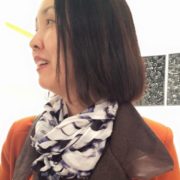 Sunyoung Cheong was born in Seoul, South Korea. She attended the University of Kansas (KU), where she earned her Bachelor in Fine Arts and Masters in Fine Arts in metalsmithing and jewelry design. She began lecturing at KU in 2017, teaching CAD/CAM and casting for jewelry. She also works as a studio artist and a custom jewelry designer in Topeka, KS.
website: www.Sunyoungcheong.com
instagram: @sunyoung.cheong
facebook: @contemporaryjewelrystudio