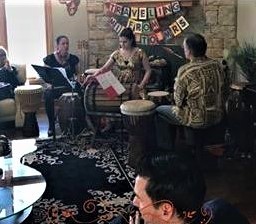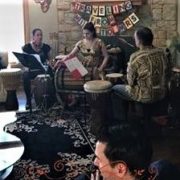 Join us at lunchtime on Wednesday, May 24th for a heart-thumping performance from Echoes of Africa from 11:30 – 1:30 at  City Market Park, 3rd & Main St.  Stop by the City Market to pick up your lunch on the way!
Echoes of Africa Drumming Ensemble draws from the ancient and yet still very contemporary folkloric musical traditions of western and southern Africa, as well as the occasional foray into the AfroLatin musical traditions of the Americas—all cultures where percussion-based music serves as a central fixture in life's experiences.  The performance will be alive with primal rhythmic energy, as all in attendance are treated to two exciting sets of drumming-based music from Africa and the Americas.
The performance, including musicians John Currey, Sean Branagan, Corey Davis, and Dylan Bassett will consist of two exciting sets of music highlighting the rich, vibrant drumming traditions of Western Africa and Afro-Latin America.
Program (times are approximate):
11:30am – 12:20pm Set 1
12:20pm – 12:40pm Break
12:40pm – 1:30pm Set 2
**Community Drumming will wrap-up each set.
BRING YOUR CONGA, DJEMBE, SHAKER, or BELL, and join in on the music-making on 'Cue!', as each set wraps-up with an all-play celebration of Kansas City community drumming!
This performance is free and open to the public, and is part of the 2017 Art in the Loop Project:  Cue! The project is made possible through the generous support of KC Streetcar; the City of Kansas City, Missouri; the Missouri Arts Council; Arts KC and our corporate sponsors including Stinson Leonard Street, Henderson Engineers, JE Dunn Construction, McCownGordon Construction, Port KC and UMB Financial Corporation. We appreciate in-kind support and guidance provided by the Downtown Council, the Downtown and River Market Community Improvement Districts, KCMO-Public Works Department, KC Streetcar, the City Market, Kansas City Public Library, Kansas City Art Institute, Folk Alliance International and The Bridge 90.9.
For more information about the project, the artists and performance schedule visit www.artintheloop.com, www.facebook.com/artintheloop, or twitter.com/ArtintheLoop.
https://www.artintheloop.com/wp-content/uploads/2017/04/EchoesOfAfricaPerformancePhoto3.jpg
224
256
Ann
http://www.artintheloop.com/wp-content/uploads/2017/04/ArtintheLoopLogoWhite-250x250.png
Ann
2017-05-21 16:00:06
2018-05-17 13:45:07
Lunchtime Concert from Echoes of Africa Drum Ensemble at City Market Park