Megan Karson is a young, quiet, intriguing, multi-talented, unassuming redhead. She makes monsters and draws creepy, weird, metamorphic creatures you expect to see under your bed, or in a petri dish. She tells me she is afraid of monsters, is afraid of strangers, but yet, here we are, talking about her gigantic soft-sculpture that KC went crazy for over this summer. You know who it is, you know its name, you'd know that big, red grin anywhere, it's [drum roll]…….The Stranger on the Train.
After getting to know her, it appears Megan's approach with her Stranger was to conquer a fear, even if that goal was subconscious. By combining two things that give her goosebumps, she was actively attempting to make the uncomfortable….less uncomfortable. As with caricature, when something is exaggerated to the point of being laughable, much of its power is diminished. By giving the Stranger giant, concentric eyes, a huge, red, smiling mouth, four arms with glittery gold nail polish, and lots of little boobie-babies, Karson's monster became less of a nightmare and more of a fun phantasm. The Stranger was easy to laugh at, appreciated taking selfies with everyone, and encouraged strangers of the human variety to reach out and speak to each other. The Stranger opened up an easy, fun, way to communicate, to laugh with each other, to forget social anxieties and make a new friend. (The Stranger was also great at welcoming out-of-towner's to our interesting, beautiful, funny city.)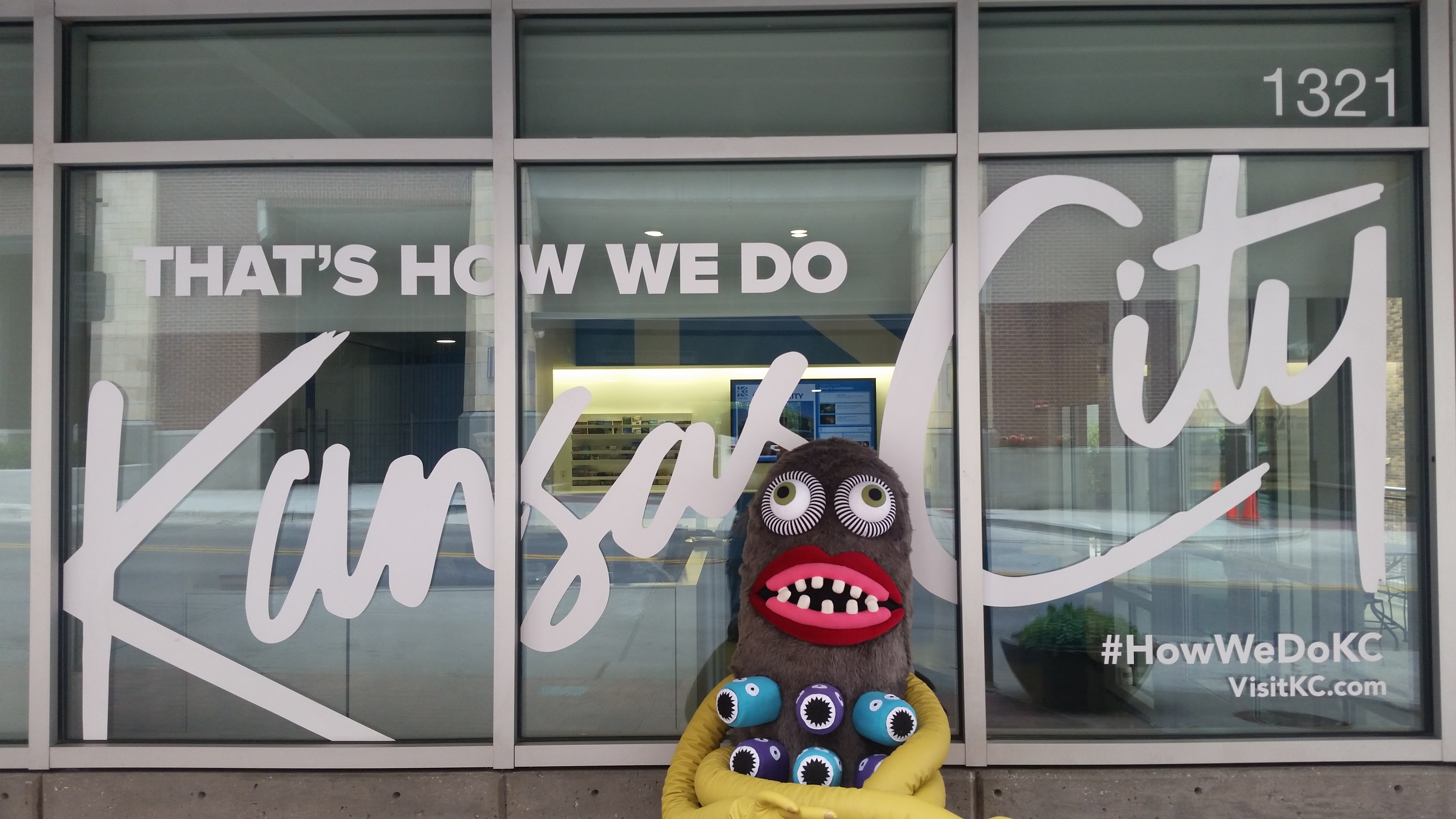 Q: Describe your Art in the Loop project
Megan: My goal was to create a big, weird thing for people to interact with, and feel silly in a playful environment.
Q: What other disciplines do you work in?
Megan: Other than soft sculpture, I work a lot in film photography and illustrations. The Stranger happened because I like to do illustrations of silly and weird things, and I started making my drawings 3D. This has made me want to make more large stuff, but I don't want to work myself into a box; like 'I only make monsters,' but the larger scale is definitely appealing.
Q: What inspires/influences you in your artistic practice?
Megan: Nature, animals, plants, but seen in a different way. I like the pretty freaky stuff, things that are in nature that are weird; like microscopic sea-organisms that up-close look like monsters. In my photography work, I do a lot of portraitures; the variety of types of people in the world is very intriguing to me. How different we all are, and also how similar at the same time.
For the Stranger, I had been working with StoneLion Puppet Theatre, making really large puppets for them and had been thinking about how we interact with things that are a human-scale. It seems people are more connected to things their size, they feel more lifelike and relatable. I had been working on this funny drawing of this monster guy and decided to see what would happen if I made it human-scale. It's the largest thing I've ever made.
Q: Have you always been into monsters?
Megan: I was really afraid of monsters as a kid, I was scared of everything as a kid. I'd watch E.T. and get nightmares, that movie was terrifying.
Q: When did you know you wanted to be an artist?
Megan: My whole life. I've been drawing since I could hold a crayon, my grandma kept everything. There's a painting I did when I was little, like 5 maybe, that she kept. It's of sea creatures with big, funny faces. I've been putting funny faces on things forever it seems.
Being an artist is all I ever thought I would do in my life, that or take care of animals at the zoo. Making isn't really a choice, it is something that is compulsory, there are things inside that have to come out, and making art is the best way for that to happen, for me.
Q: What did you hope people would gain from interacting with your piece?
Megan: I hope that people leave the streetcar with a funny experience, an unexpected happy moment to share with their friends.
I've been discouraged lately, the fire and losing all my supplies and all that, I keep asking myself 'Why do I make art?' and when I think about people, and how they spend their days; going to work, sticking to a schedule, all that, it makes me really wonder what else is out there? And what I keep coming back to, is that there is so much out there; new experiences, new ideas, new people, new ways of looking at the world and unexpected ways people experience their world.
There is something about art and music that brings you out of yourself and shows you how others live and feel. This idea of new encounters, this is what is important to me, and to share, and to give people an experience they do not have every day. Public art allows interaction with objects, with ideas, with other people. I have a pretty intense case of social anxiety, and art is an easy way to open up a conversation with a stranger. I'm so uncomfortable around strangers, I push myself to interact with others, and many other people experience that as well. In my photography work, I do a lot of street photography while I travel, and the camera allows people to start conversations by asking what I'm doing, or I ask if I can take their picture.
Q: Did the public response to the Stranger surprise you? How does it make you feel, as an artist/creator, to know your work as generated this kind of overwhelming response?
Megan: It's funny, I kind of don't even think about it [The Stranger] unless someone else brings it up, or I see it pop up on Instagram. I made it in my bedroom, and it was just kind of looming over me, in a way, all the time, until it went away to the streetcar to live its life.
Just to see people's faces light up – that's why I do it. People get really excited, joyful feelings, and that is what makes doing anything, especially making something, totally worth it. The Stranger, and KC's reaction to it, it's been a good reminder of why I do what I do. Sometimes I feel burnt out, I do make other things, but I've been making monsters for 8 years, and people love it. Recently, because of the fire, I'd been feeling really discouraged and disheartened, I wanted to give up and quit art. But this experience and knowing how much love the Stranger has had from the community, makes me want to push harder, and not give up. To build bigger and continue doing my passion. I want to continue enjoying the day, the moment, the reality of what I'm providing for other people.
Q: What is the Stranger's fate once the summer program has ended?
Megan: Oh man, I don't know. I feel like it needs to exist in the world still. I'd love to sell it or auction it off. I'd love for it to go to a local organization where it can continue to bring happiness to people.
Q: What has this experience working with Art in the Loop taught you as a working artist?
Megan: I just make stuff, I don't know how to talk about it with people, and this experience has really helped me with that. Most of my stuff is niche work, it appeals to a small group of people, and working with Art in the Loop helped get my work out there to a larger audience and to see the appreciation people have for what I do. It has also made me realize that is possible to go bigger, and not be afraid; bigger audience and bigger works.
Q: What is your next move?
Megan: Well, for the month of October, I am the featured artist at the Leedy-Voulkos. The Stranger will be there, along with its' little friends, the smaller monsters. Come say "hi," take a monster home with you!
Check out Megan's soft-sculptures this coming First Friday, October 5, and Saturday, October 6, at the Leedy-Voulkos, located at 2012 Baltimore Ave.
https://www.artintheloop.com/wp-content/uploads/2018/10/Karson-and-Monster.jpg
2184
1944
Ann
https://www.artintheloop.com/wp-content/uploads/2017/04/ArtintheLoopLogoWhite-250x250.png
Ann
2018-10-03 14:51:55
2018-10-02 14:52:23
Get to know the artist: Megan Karson