'Demonstration 3' Interview with Isaiah Lee
'Demonstration 3' Interview with Isaiah Lee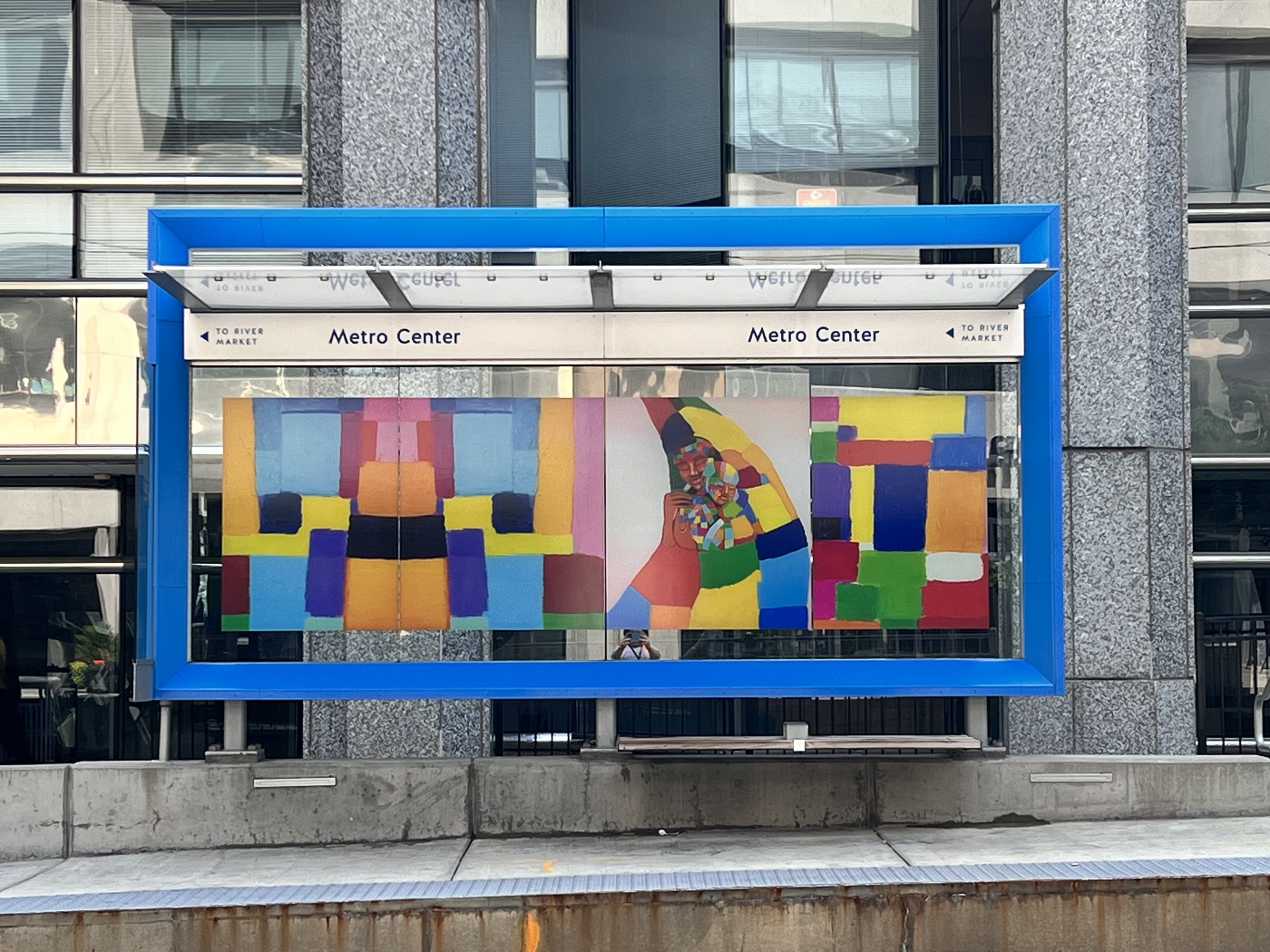 Isaiah Lee's artwork is displayed at the Metro Center Northbound Streetcar Stop. It comes from a set of paintings displayed at AI Hub. We interviewed Isaiah to talk more about the work that formed the basis for the Streetcar Stop Art. Isaiah's work will be featured at the Artwalk on September 13th.  
Can you describe your artwork and what it means to you?
The piece, in the most basic words, is a look forward to what I would like to experience like with my own child. It's reflecting on my own childhood and seeing what I missed out on and what other people missed out on, but at the same time, still giving some praise to fathers who are present. This piece is part of a set. These pieces are all following a narrative. The paintings have to do with Black life in America and the Black experience. I completed another series called the Homestead paintings. As a whole, they illustrate the spread of Black people and the spread of our influence post-slavery. The artwork from the Demonstration series, which the streetcar stop artwork comes from, are more specific situations. 
What was the process of deciding the color palette and the specific imagery that you chose?
I'm a really big color theorist. I'm big on things being really colorful. I don't pick colors at random. I make sure to choose colors that go together. I use the color wheel and aesthetics a lot to go through and determine the shape of everything. The eye is most attracted to squares and circles. I'm manipulating a kind of system but it's mainly based on what's appealing to me. That's first and foremost. It's really easy to communicate emotions with squares and colors. I wanted people to feel warm with the colors that I used to contrast with the background. It was deliberate, but it was also intuitive. The background is blank because I wanted the focus to be on the two people. The warm background iss important because it fills your entire peripheral vision. You're supposed to stand really close to those paintings and look at them almost like you're looking at a map. My intention is for the audience to feel so close to the people in the painting that it almost feels like you're also hugging the child.
How did you choose which of the Demonstration pieces to send in with your application?
There are three pieces in the set; I chose Demonstration 3 because it fits the celebration theme the best. All of the pieces are celebrating Black people, but I feel like this piece celebrated something really personal to me. I felt the strongest connection to this piece, more so than most of my other work.
How is Demonstration 3 different from the other projects that you've done?
This painting is different from the art that came before it because it's so specific. A lot of the other pieces I've done are pretty broad and they don't really touch on an individual issue. There are also figures with it. I normally don't do faces or people. Demonstration 3 is fairly religious. Demonstration 3 in particular uses a reference to the religious painting of Mary holding Jesus. It was kind of hard to find actual images of a man holding a baby so my reference came from paintings of Mary and Jesus, then I created my own narrative around it. In a lot of the pieces that I'm working on now, the faces are much more specific. In Demonstration 3, the face was pretty nondescript and I did that deliberately because I wanted more people to be able to connect to it. A lot of what I'm working on now is much more specific to me. Demonstration 3 is very specific to me, but it is also more relatable to more people. Now, I'm looking more inward and reflecting on the religious issues I had in the past.
How long have you lived in Kansas City?
I grew up in Lee's Summit and then I went to college in Warrensburg when I was 19. After I moved to Warrensburg, I came back to Lee's Summit. I've been in Missouri my entire life and I've lived in Kansas City for probably 18 years. 
How did you find out about Art in the Loop?
I didn't recently start getting involved with galleries or any public art until I moved back home. I found out about Art and the Loop when I saw the call for artists this year. A bunch of people were telling me, "Oh, you should apply" or "you should submit for this." It's been a really cool opportunity.
Thank you, Isaiah Lee, for sharing more about your art and story!
---
For more information about Isaiah's artwork and the other artists featured this year, visit www.artintheloop.com
The 2023 Art in the Loop Project is made possible through the generous support of the KC Streetcar Authority, JE Dunn, Henderson Engineers, Stinson LLP, and other corporate partners. This project is funded in part by the City of Kansas City, Missouri Neighborhood Tourist Development Fund, as well as by awards from the Missouri Arts Council, ArtsKC, and the Richard J. Stern Foundation for the Arts – Commerce Bank Trustee.
Project partners include the Downtown Council, Downtown Community Improvement Districts, KC Streetcar, and the Kansas City Art Institute.
For more information about the project and the artists, visit www.artintheloop.com or www.facebook.com/artintheloop
# # #
Contacts:
Art in the Loop
Ann Holliday, Program Director, ann@downtownkc.org, (c) 816-718-1355
Marissa Starke, Visual Arts Director, marissastarke@gmail.com, (c) 816-519-4236
Jade Osborne, Performing Arts Director, jademuse@gmail.com
KC Streetcar
Donna Mandelbaum, Communications & Marketing Director, dmandelbaum@kcstreetcar.org, (c) 816-877-3219
https://www.artintheloop.com/wp-content/uploads/2023/06/Demonstration-800x800-1.webp
800
800
Keaton Lewis
https://www.artintheloop.com/wp-content/uploads/2020/07/cropped-2020ArtLoopLogoAll2-180x180.jpg
Keaton Lewis
2023-09-05 09:22:08
2023-09-05 09:22:08
'Demonstration 3' Interview with Isaiah Lee