'The Little Princess' Interview with Adrianne Clayton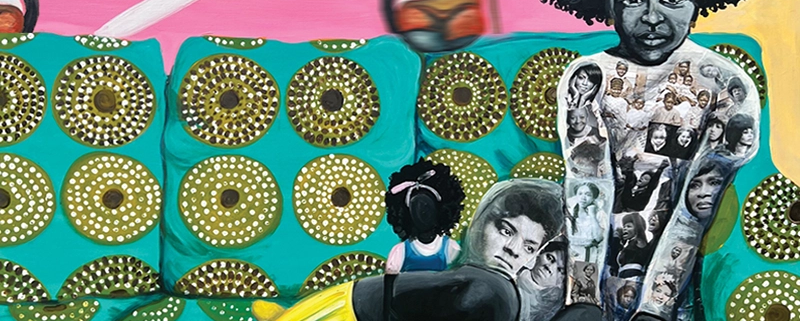 'The Little Princess' Interview with Adrianne Clayton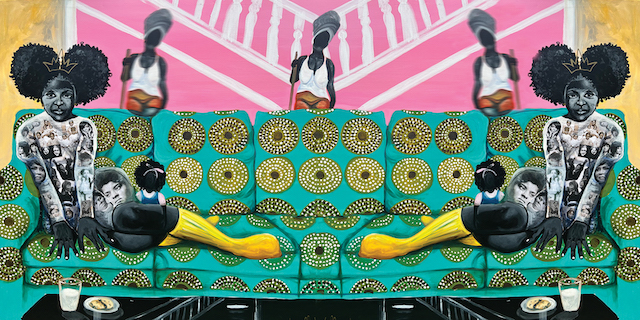 Adrianne Clayton's artwork is displayed at the ARTwall at 13th and Grand. We interviewed her to learn more about 'The Little Princess.' Adrianne's artistic process, her history with art, and her experience as a member of this community.  
 How did this piece come about, and what is the meaning behind it?
This piece came about after hearing about giant canvases on sale at a nearby Ross for $30. I rushed to the store purchasing all 4 of them as I'd been taught by my mother to look for the sale and get the "bang for your buck."
Not long after, I was scheduled to have an exhibit at the Natasha Ria Gallery and I needed to create a body of work.  I didn't want the work to only be aesthetically pleasing; I wanted there to be a message that would speak to the hearts of little girls of all ages.  There are so many people that we interact with from childhood to adulthood, from our most intimate and close family members to friends, neighbors and teachers. There are also hidden figures that contribute to who we are and why we are. My desire was expressed through my artwork as an appreciation and celebration of black female pioneers whose life has impacted the world in a way that an easier path was made for us all.  I began to paint the small girl reflecting the earlier years when we are most like a sponge watching and absorbing. I wanted her to perch upon a couch with her feet up as if she were royalty. I began adding her mother who is her first influencing relationship as I have been both the child and the mother at this point in my life understanding both roles. As I painted I began to think about ways to incorporate other women without taking the focus off of the little girl and I thought, "Oh, her clothing!"  She will wear past and present African American Female Trailblazers who are powerful through resilience like the wet nurses/slaves, or Michelle Obama who set the standard for African American women high ranking positions, Sojourner Truth who used words to get people to see beyond appearance and Cicely Tyson who has modeled ageless talent in the acting arena. I collected and printed photographs of these powerful women and began to collage them for her dress. 
How has this project differed from other works you've done?
This project did not really differ from past projects as far as process because I often collage when painting. In the past acrylic paint was my go-to because it dries quickly. Sometimes when collaging I attach an ornament of some sort like a pair of beautiful earrings, fabric or simply printed photos.  Not too long ago, I painted a portrait for a family whose father had passed. He always wore denim shirts, so I found a pair of jeans, and I constructed a denim shirt because it made it more sentimental and impactful.  In the Little Princess I collaged as usual but used a lot of faces.
What's been your experience with Art in the Loop before this year?
I've worked with Art in the Loop for two projects now.  The first time I submitted for a streetcar stop I was conflicted about sending the painting, Mother's Plight. I chose it in line with the theme but I knew my truth would offend some people.  I decided to take a chance and submit it anyway. I was surprised when I was informed that it was unanimously chosen. I have been continually impressed with Art in the Loop.  They have provided so many opportunities for all types of artists to be represented in public space.  
The staff are all so kind and so loving, they make sure you have support when necessary and they care about sharing your work in the light possible.  After the the streetcar stop I thought the next time there was a call for artists, "Well, I'm gonna submit again." It was and has been a great experience and a great opportunity to be in public spaces and I've met some really great artists, and people and gained lots of resources like the Art Incubator Hub.
What has the process been like getting it ready to go up on the ARTwall?
My image didn't fit the space being a perfect square so we had to almost double it in length which created two girls sitting on the sofa instead of one; it works because I have a twin. Working with The AI Hub was amazing. They have been super helpful in making the process a very smooth one.  This husband, wife and toddler squad downloaded the image of my painting while discussing the best way to adjust the art for the space. They tagged teamed flawlessly both using their strengths to make the image you will see for a year.  
The printing was another story due to the size of the wall but I'm excited to see it up.  
How long have you been in Kansas City, and what's been your experience living here?
I am a Kansas City native, born and raised here in a very blended family. I am the fourth oldest child coming in 20 minutes behind my twin sister, Andrea Clayton-Jones who is also an educator.
While growing up in Kansas City I was a part of the South Suburban Athletic Association, we are a sports family! I took classes at the sewing co-op at Linwood United Methodist and Presbyterian Church where my Granny, Doris Clayton, Nana, Juanita Gibson and Aunt Cheryl Martin taught us to sew every Saturday.  My first job was at the Nelson Atkins Museum when I was in the 7th grade when one of my art teachers asked my mother if my twin and I could work in the Creative Arts Center as teacher assistants.  Talk about a great job, there was a closet, more like a small room with wall-to-wall shelving filled with any and everything imaginable for creation. I had a lead teacher named Maria who allowed me to teach classes sometimes.
I went to school in the Kansas City, Missouri School District participating in sports and the arts. I've had arts education since about fourth or fifth grade and through high school as a part of the Magnet School Programming.
I have had the privilege of working under some amazing artists and teachers while attending Wendell Philips (Mrs. Cole) the Kansas City Middle School of the Arts (Dr. Richard Bay and Betty Hudson) and Paseo Academy (Mario Jordan, K Mendenhall, Wendy West,  Rusty Newton, Mr West, Lonnie Powell, Andrea Davis and Anthony High).  Dr. Bay taught me to explore, experiment, and try anything, he was wild and fearless and I learned that fearlessness in art exploration from him. Betty Hudson told me in the sixth grade, "Adrianne, if you're not gonna create your own characters, then stop copying them." That was the beginning of me drawing what I saw in life and being inspired by life when creating.  Mr. Jordan told me I would be a great teacher when I was in about the 10th or 11th grade and I have been for almost 23 years.  Mr Powell was my first painting teacher and he pushed me to not run away from difficult things and gave me the space to grow which is how I teach in my classes. My very first art teacher was my Nana, Juanita Gibson, a beautiful watercolor painter who saw my talent early on.
Kansas City was a great place for me to grow into who I am today.  Without so much culture and community I don't know who I would be. Kind of like the little princess, yep she's me.
Thank you, Adrianne Clayton, for sharing more about your art and story!
For more information about Adrianne's artwork and the other artists featured this year, visit www.artintheloop.com
The 2023 Art in the Loop Project is made possible through the generous support of the KC Streetcar Authority, JE Dunn, Henderson Engineers, Stinson LLP, UMB and other corporate partners. This project is funded in part by the City of Kansas City, Missouri Neighborhood Tourist Development Fund, as well as by awards from the Missouri Arts Council, ArtsKC, KCAI and the Richard J. Stern Foundation for the Arts – Commerce Bank Trustee.
 Project partners include the Downtown Council, Downtown Community Improvement Districts, KC Streetcar, and the Kansas City Art Institute.
For more information about the project and the artists, visit www.artintheloop.com or www.facebook.com/artintheloop
# # #
Contacts:
Art in the Loop
Ann Holliday, Program Director, ann@downtownkc.org, (c) 816-718-1355
Marissa Starke, Visual Arts Director, marissastarke@gmail.com, (c) 816-519-4236
Jade Osborne, Performing Arts Director, jademuse@gmail.com
KC Streetcar
Donna Mandelbaum, Communications & Marketing Director, dmandelbaum@kcstreetcar.org, (c) 816-877-3219
Thank you, Adrianne Clayton, for sharing more about your art and story!
https://www.artintheloop.com/wp-content/uploads/2023/06/Little-Princess-800x800-1.webp
800
800
Keaton Lewis
https://www.artintheloop.com/wp-content/uploads/2020/07/cropped-2020ArtLoopLogoAll2-180x180.jpg
Keaton Lewis
2023-09-04 17:17:52
2023-09-04 17:17:52
'The Little Princess' Interview with Adrianne Clayton