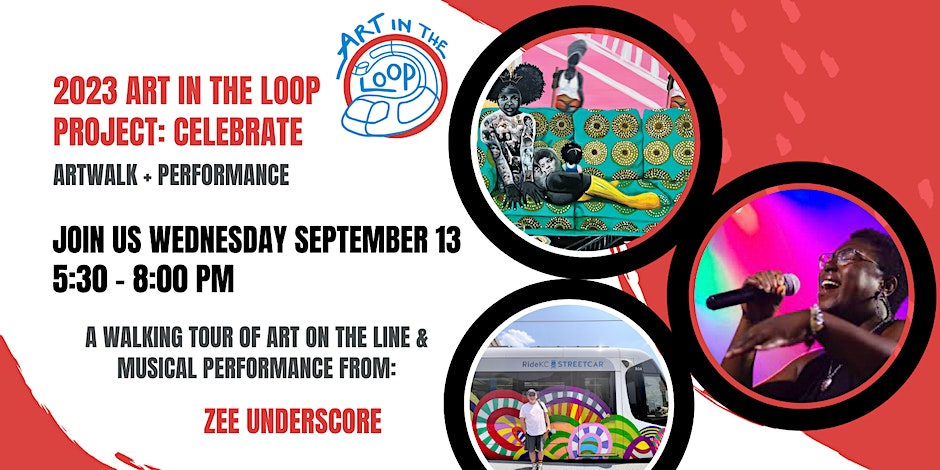 Join Art in the Loop on a tour of the artwork located along the KC Streetcar line on Wednesday, September 13 from 5:30 to 8:00 p.m. The event kicks off with a short program at the Union Station Streetcar Stop. From there, guests will hop on the KC Streetcar and meet the 2023 Art in the Loop artists at streetcar stops to discuss their art! The event will end with a reception and fantastic music from Zee Underscore at the City Market.
Event highlights:
Guided tour of art along the KC Streetcar line with local artists and 2023 Art in the Loop Visual Art Director Marissa Starke and Performance Art Director, Jade Osborne. The tour will take approximately 60-70 minutes.
An electric performance from Zee Underscore. In this performance, Zee Underscore take you on a journey through her passion, realization of self, freedom of expression, and SUPERSTARDOM! With a unique sound and captivating energy she will showcase her original compositions in a way that will make you instantly pull out your phones, and add her to all of your playlists!
Appetizers and beverages provided by Taste of Brazil following the tour
Tickets:
Tickets are $20 per person (The ticket includes entrance to the event, tour, and a reception featuring Taste of Brazil following the tour.)
Click here to register or visit artintheloop.com for more information.
This year's artists responded to our 2023 theme " Celebrate" and include:
Arin Yoon
BubbleGum Kurt
Kaitlyn B. Jones
Fred Trease
Adrianne Clayton
Madeline Marak
Isaiah Lee
Khyneesha Edwards
The 2023 Art in the Loop Project is made possible through the generous support of the KC Streetcar Authority, Henderson Engineers, JE Dunn, Stinson LLP, UMB and other corporate partners. This project is funded in part by the City of Kansas City, Missouri Neighborhood Tourist Development Fund, as well as by awards from the Missouri Arts Council, ArtsKC, and the Richard J. Stern Foundation for the Arts – Commerce Bank Trustee.
Project partners include the Downtown Council, Downtown Community Improvement Districts, KC Streetcar Authority, and the Kansas City Art Institute.
For more information about the project and the artists, visit www.artintheloop.com or www.facebook.com/artintheloop
# # #
Contacts:
Art in the Loop
Ann Holliday, Program Director, ann@downtownkc.org, (c) 816-718-1355
Marissa Starke, Visual Arts Director, marissastarke@gmail.com, (c) 816-519-4236
Jade Osborne, Performing Arts Director, jademuse@gmail.com
KC Streetcar
Donna Mandelbaum, Communications & Marketing Director, dmandelbaum@kcstreetcar.org, (c) 816-877-3219