'How to Build an Altar for the Living' Interview with Kaitlyn B. Jones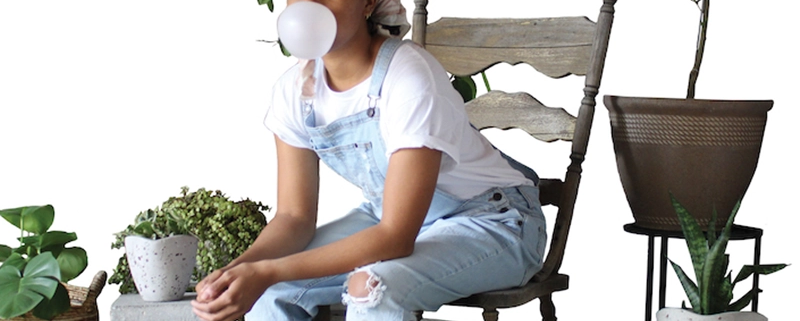 'How to Build an Altar for the Living' Interview with Kaitlyn B. Jones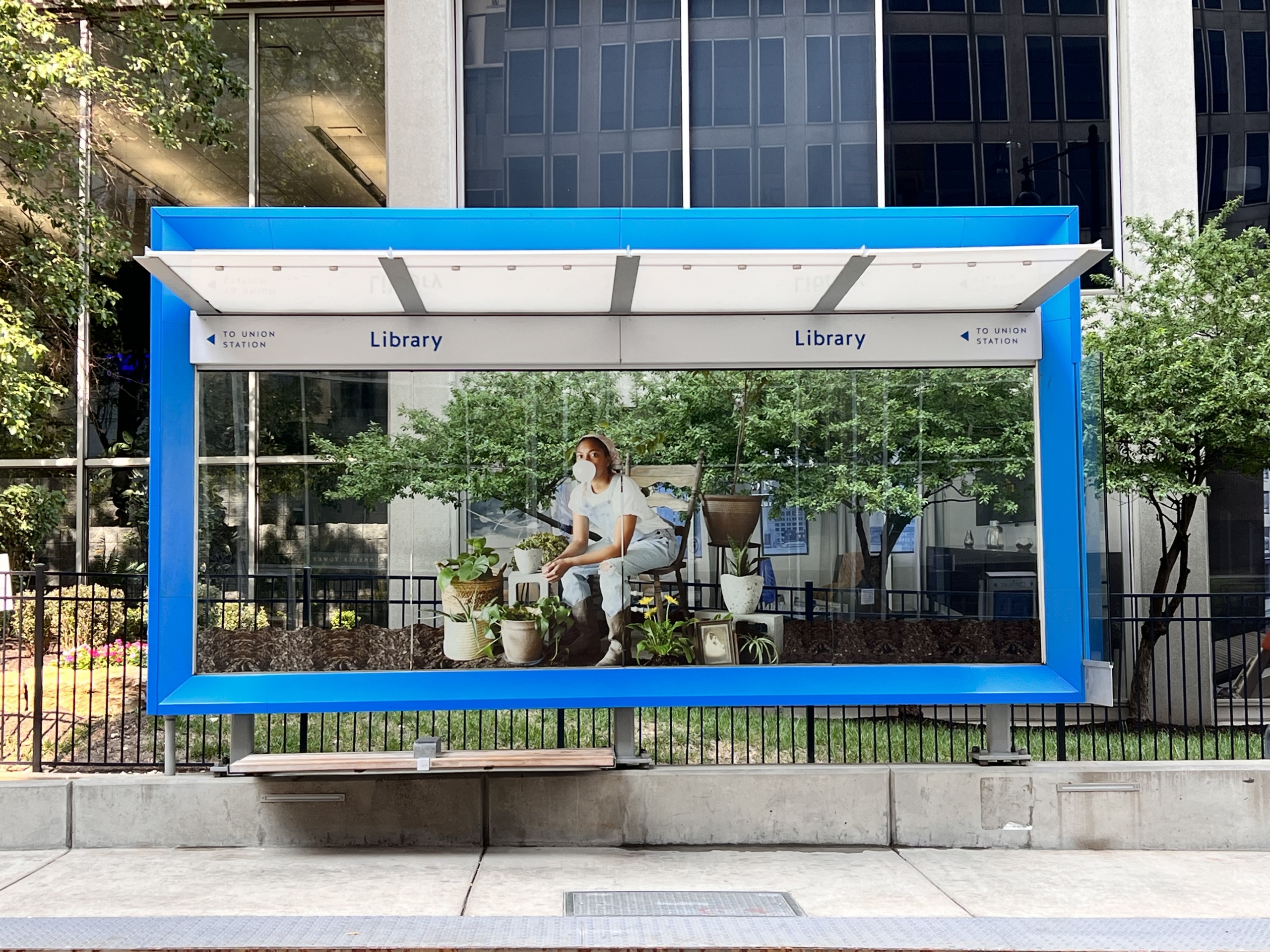 Kaitlyn B. Jones' artwork is displayed at the Library Southbound Streetcar Stop. It shows one frame from her short film 'How to Build an Altar for the Living'. We interviewed Kaitlyn to talk more about the original short film that formed the basis for the Streetcar Stop Art. We recommend you watch the film before reading this interview here: https://vimeo.com/545766878. Kaitlyn's work will be featured at the Artwalk on September 13, 2023.
What inspired you to create this video?
In the Spring of 2021, while visiting my grandparents' house in Waco, Texas, I sat for breakfast with my great-grandmother, who, at the time, was 101 years old. I don't remember exactly how the conversation got started, but soon I started asking her questions about her life growing up on a small farm in Gonzales, Texas. I pulled out my phone and before I knew it, I had recorded over two hours of oral history. One of the stories that really stuck with me was a girlhood memory of turning the bark of a wax tree into chewing gum. My great-grandmother's formative years were shaped by the Great Depression and the aftermath of World War I, so obviously, chewing gum was a luxury they couldn't afford at the time–but they made do with what they had grown on their land. Her chewing gum memory resonated with me the most because its simplicity brought her so much joy that she vividly remembered it over 90 years later.
A lot of my work as an artist is centered around Black legacy and lineage. I draw a lot of inspiration from my familial history and my attempt to preserve that rich history. I don't think anyone would have known such a specific detail about her life if I had not taken the time to ask her about her childhood, or if I had not recorded her telling it. Storytelling is so important–especially for Black people. The survival of our culture is dependent upon the stories we tell to the next generation. Even the simple things are worth celebrating.
We typically think of altars as something you build for somebody who's passed away, but in How to Build an Altar for the Living, I explore what it looks like to build an altar for somebody who is alive and well…giving them their flowers while they're still breathing. I decided to build the altar from plants that I found around my childhood home. At the center, I placed an old wooden chair that I found in my grandmother's backyard. I built this altar for myself, to honor my life, but I also built it to honor my great-grandmother, who will turn 103 in September. In the first half of the video, you hear the audio recording of my great-grandmother telling her chewing gum story. Everything after that is just my own exploration of what I imagine my legacy might be.
You wear three costumes in the video in total. You wear the dress, the sweatpants, and then the overalls. Can you talk a little bit about what each of those costumes represents?
Every outfit was a deliberate choice. I grew up in a Baptist/Episcopalian Christian household. I'd spend summers going to vacation Bible school with my cousins at my grandmother's church in Waco, Texas. I have vivid memories of attending Easter services, Sunday school, and all sorts of different church activities. Although I am not religious in my adulthood, the Black Baptist culture that raised me is still very present in the way that I live my life.
In the video, I'm wearing overalls and cowgirl boots to reference my great-grandmother's Texas farm life–even though in reality, she's never worn pants a day in her life–and I blew a bubble of chewing gum in reference to her story. During filming, I used the "church lady" outfit and the "sweatpants" outfit to explore the relationship between the religious teachings I grew up with and my queerness.
I'm not a masculine-presenting person in reality, but there was something fun about exploring masculine energy in contrast with the feminine energy that radiates from the church ladies I would see on the front pews in my grandmother's church on Sundays. At the time of filming, it had been a little over two years since I came out to my immediate family and I was having a really hard time balancing a Christian identity with the fact that I am gay. I wanted to explore those two dichotomies and how they make me who I am.
What was the process of making the video like?
The process of putting them all together was pretty haphazard, honestly. I filmed all the scenes in one day. I knew I wanted three sections, but the editing is really what brought it together.
In the beginning, the spinning circle is exactly what the loading screen for ancestry.com looks like when you type a name in the search bar. I've always felt frustrated by sites like ancestry.com because I don't think I should have to pay to learn my own history. Especially when Black history has always been gatekept and erased by oppressive systems of power. Layering the videos of myself on top of one another was a visual "meshing" of all of my identities.
Why did you end the video with the masculine person sitting in the chair?
I ended on the masculine outfit mainly because it was the part of me that felt the strongest and still feels the strongest to this day. Not necessarily the masculine-presenting part…but the queerness that it represents. Being a proud lesbian has freed me in so many different ways. And I have found that living authentically in my queerness has freed me a lot more than religion ever did. I think that's why the video ends the way it does. It's my own way of saying, "This isn't going away. This is not a phase. It's not an experiment. It's something that's here to stay, and whether you like it or not, it's me."
In the second half of the video, 'I Believe' by John P. Kee plays. How did you decide on that song choice?
Honestly, the song was kind of random. John P. Kee is an iconic gospel artist, and "I Believe" was a song I heard throughout my childhood. I guess I selected the song because it felt like home. It felt familiar. I didn't think much about what song I was choosing until I finished the video, and then I realized it fit perfectly.
When did you move to Kansas City, and when did you find out about Art in the Loop?
I moved to Kansas City in July of 2022. My coworker, David Wayne Reed, was a part of Art in the Loop last year, but I didn't make the connection between my coworker David, and David whose art was on the Kauffman Streetcar stop until I had lived here for a few months and finally discovered that the reason art was on the Streetcar stops was because of Art in the Loop. I think it's really awesome that rotating public art is made available in places that people pass by every day. When I saw the Art in the Loop call for 2023, it was important to me that I figure out which of my works fit within the theme organically. This year's theme, "celebrate", wasn't a word that I had used explicitly to describe my work, but it definitely reflects what I do. I celebrate the seemingly mundane. I celebrate lineage. I celebrate history, storytelling, intergenerational communication, and Black historic preservation.
On the streetcar stop is one frame from the video. Why did you choose that frame?
I think the image of me in overalls with the giant bubble of chewing gum reflects the intergenerational storytelling of the complete work. The chewing gum story is my maternal great-grandmother's memory and the photograph at my feet is of my paternal great-grandmother holding my grandmother as an infant. The whole image brings together both sides of my lineage in a way that represents the theme and the work really well. Most of the time, Black women are the keepers of familial histories and traditions, and I'm honored to be able to continue that legacy.
For more information about Kaitlyn's artwork and the other artists featured this year, visit www.artintheloop.com
---
The 2023 Art in the Loop Project is made possible through the generous support of the KC Streetcar Authority, JE Dunn, Henderson Engineers, Stinson LLP, UMB and other corporate partners. This project is funded in part by the City of Kansas City, Missouri Neighborhood Tourist Development Fund, as well as by awards from the Missouri Arts Council, ArtsKC, and the Richard J. Stern Foundation for the Arts – Commerce Bank Trustee.
Project partners include the Downtown Council, Downtown Community Improvement Districts, KC Streetcar, and the Kansas City Art Institute.
For more information about the project and the artists, visit www.artintheloop.com or www.facebook.com/artintheloop
# # #
Contacts:
Art in the Loop
Ann Holliday, Program Director, ann@downtownkc.org, (c) 816-718-1355
Marissa Starke, Visual Arts Director, marissastarke@gmail.com, (c) 816-519-4236
Jade Osborne, Performing Arts Director, jademuse@gmail.com
KC Streetcar
Donna Mandelbaum, Communications & Marketing Director, dmandelbaum@kcstreetcar.org, (c) 816-877-3219
https://www.artintheloop.com/wp-content/uploads/2023/06/Build-an-Altar-800x800-1.webp
800
800
Keaton Lewis
https://www.artintheloop.com/wp-content/uploads/2020/07/cropped-2020ArtLoopLogoAll2-180x180.jpg
Keaton Lewis
2023-08-25 15:26:02
2023-08-25 15:26:02
'How to Build an Altar for the Living' Interview with Kaitlyn B. Jones