'Disco Cloud' Interview with Fred Trease

'Disco Cloud' Interview with Fred Trease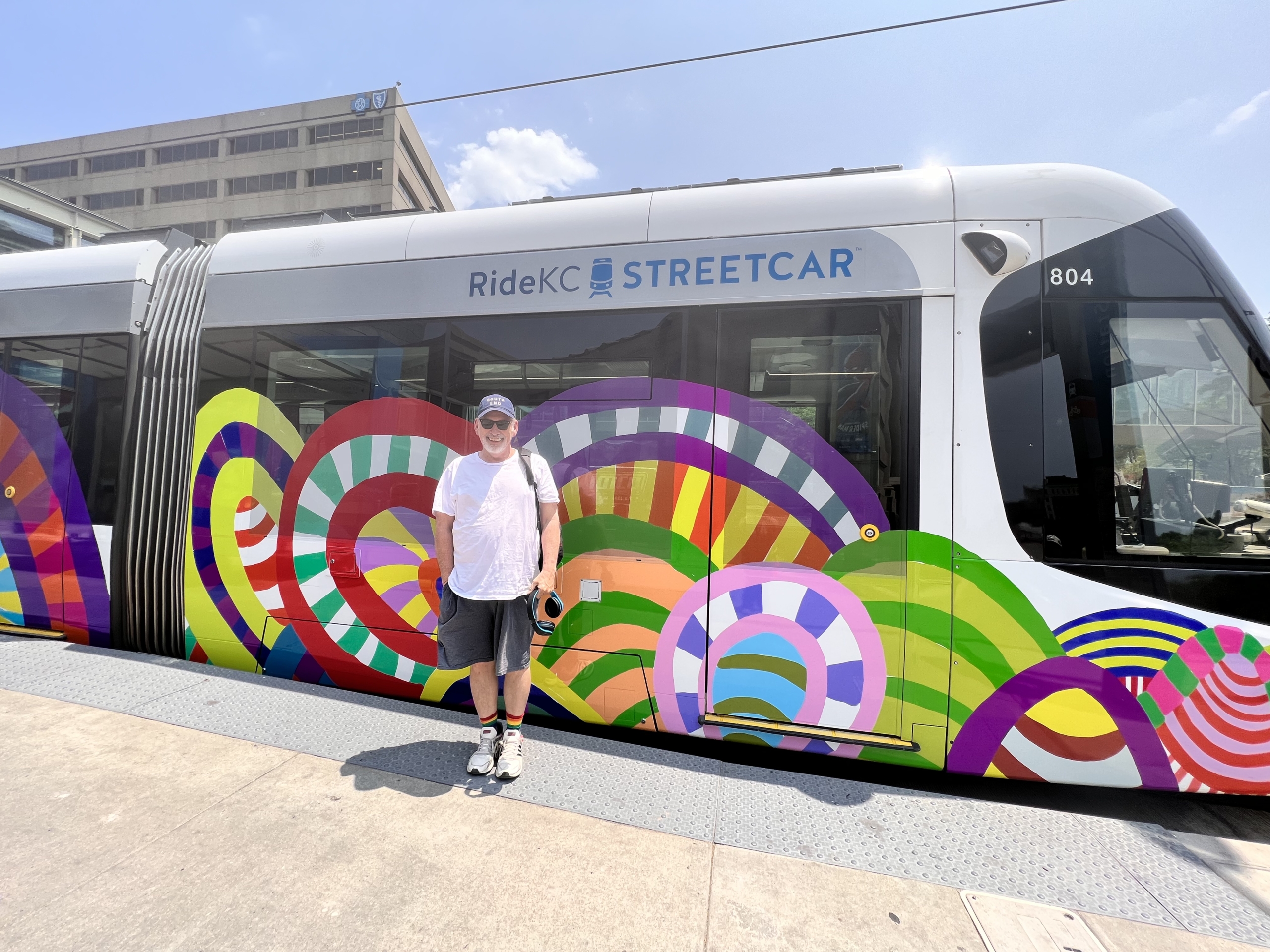 Fred Trease's artwork is wrapped around Streetcar #804. We interviewed Fred to talk more about the work that formed the basis for the Streetcar art, as well as the process of getting it on the Streetcar. Fred's work will be featured at the Artwalk on September 13th.  
What inspired you to make the Disco Cloud?
It started with some drawings I've been doing for a while called Exuberance, and they were about the exuberance of the LGBTQ+ community. They were on the Charlotte Street Art Boards earlier in the year, and I adapted them for the streetcar.
How does this piece represent the exuberance of the LGBTQ+ community?
Right now, we're really under attack from so many places, and I wanted to remind myself of what a beautiful community we are. We're like none other. The radiance and the joy that we have is sometimes forgotten when the world beats down on us. This was my way of getting back in touch with that.
Why did you decide to make a companion playlist?
I looked at the design and thought, "Well, it needs, it needs a playlist." It screams out that it has to have one. It got a big one because it's about six hours now, because I couldn't stop adding. The music came from lots of places. It comes from classic gay dance music to more contemporary music as well. There are also parts of my personal history in there. There's a Donna Summer song on there which is the first song I ever heard when I walked into a gay bar. I knew that song had to be there. It's been really fun making it, and it keeps growing. It also has this historical element because it goes along from lots of different time periods. It's not what most people would think of as disco. There's plenty of disco there, of course, but there's also all kinds of dance music that has the same feelings I want to invoke. The same joy I've found in my community.
How did you decide on the name Disco Cloud?
It was instinctual. It felt right. Looking at it, it is this cloud that goes all the way around. My concept for it was that if you were on the streetcar, you were sitting in this cloud. This swirling cloud of color and sound and joy and happiness.
When did you move to Kansas City, and why did you stay?
I moved here in 1991, so this fall, it'll be 32 years. I worked in environmental public health for a long time, and I was working in southwest Missouri. I decided it was time to move on and somewhere else. I got this great job here, not thinking I would be staying as long as I did, but here I am.
How did you find out about Art in the Loop?
My husband and I applied last year, but that proposal didn't work out. The lesson is always to keep trying, though, because this year, I was fortunate enough to be selected. Everybody's been great to work with.
What was the process of getting the piece from inception to actually being on the streetcar like?
About five years ago, I started doing digital drawings on a small tablet. That's where the original drawings were made. They're pretty small drawings. It worked out really well with the billboards last year. When we started to do them for the streetcar, we realized they were too small. They'll just be pixelated. We had to redraw them. We brought them up on a screen, and then I would go over what I had and draw it again. It turned out to be nice because I could change the colors. The ones I'd done originally had a scratchy quality to them. Redoing the colors, they turned out better and brighter and happier. That took a while to do. We also had to redo the ones inside the streetcar too.
What is the value of public art in society?
It's really important. One that's really special is the streetcar. What I love about it is it's a surprise to everyone. One could be walking or driving downtown, and then suddenly, there is this beautiful piece of art along the street. This year there's a playlist to go with it, and that makes it an experience for the riders. Waiting for the streetcar and getting on Streetcar 804, they won't know they have the opportunity to take part in this experience until they get on. Public art is great in general because it gives people things to talk about and brings a little happiness to daily life.
Thank you, Fred Trease, for sharing more about your art and story!
---
For more information about Fred's artwork and the other artists featured this year, visit www.artintheloop.com
The 2023 Art in the Loop Project is made possible through the generous support of the KC Streetcar Authority, JE Dunn, Henderson Engineers, Stinson LLP, UMB, and other corporate partners. This project is funded in part by the City of Kansas City, Missouri Neighborhood Tourist Development Fund, as well as by awards from the Missouri Arts Council, ArtsKC, and the Richard J. Stern Foundation for the Arts – Commerce Bank Trustee.
Project partners include the Downtown Council, Downtown Community Improvement Districts, KC Streetcar, and the Kansas City Art Institute.
For more information about the project and the artists, visit www.artintheloop.com or www.facebook.com/artintheloop
# # #
Contacts:
Art in the Loop
Ann Holliday, Program Director, ann@downtownkc.org, (c) 816-718-1355
Marissa Starke, Visual Arts Director, marissastarke@gmail.com, (c) 816-519-4236
Jade Osborne, Performing Arts Director, jademuse@gmail.com
KC Streetcar
Donna Mandelbaum, Communications & Marketing Director, dmandelbaum@kcstreetcar.org, (c) 816-877-3219
https://www.artintheloop.com/wp-content/uploads/2023/06/IMG_5566-scaled.jpeg
2560
1920
Keaton Lewis
https://www.artintheloop.com/wp-content/uploads/2020/07/cropped-2020ArtLoopLogoAll2-180x180.jpg
Keaton Lewis
2023-08-09 14:24:40
2023-08-09 14:24:40
'Disco Cloud' Interview with Fred Trease