'Here, with you' Interview with Arin Yoon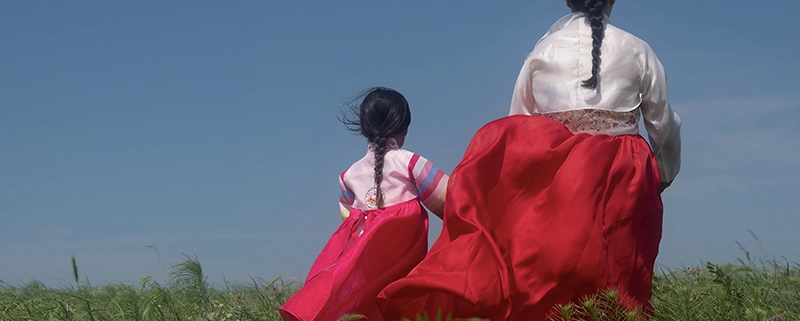 'Here, with you' Interview with Arin Yoon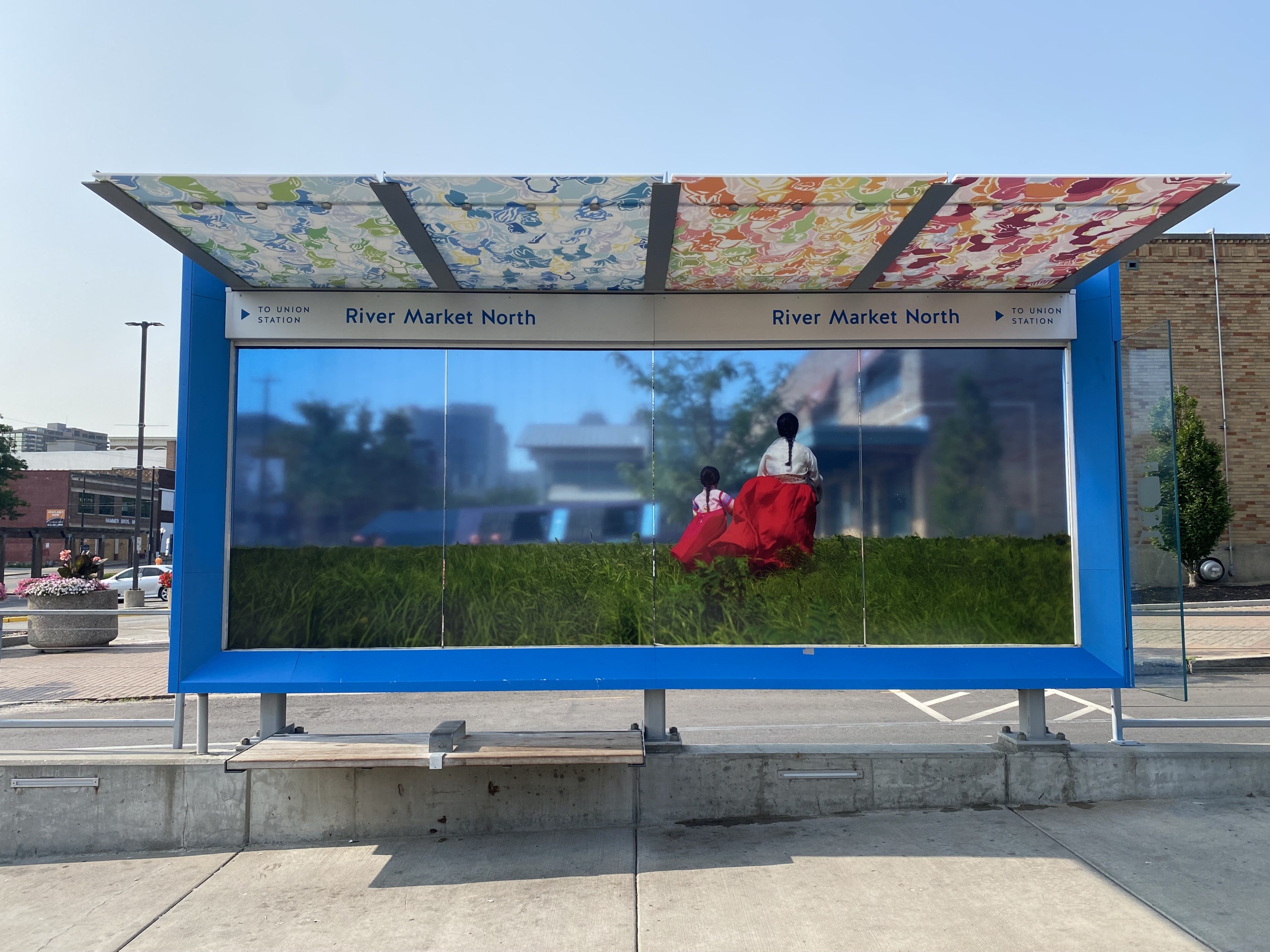 Arin Yoon's artwork, Here, with you, is displayed at the River Market North Streetcar Stop. We interviewed her to learn more about her artistic process, her history with art, and her experience as a member of this community. Arin's work will be featured at the Artwalk on September 13th.  
Is this piece part of something bigger?
I made this work during my time at the Tallgrass Artist Residency. The residency took place in Matfield Green, where the population is under a hundred people. Even so, it has a really robust artist community, including the Tallgrass Artist Residency, the Rural Arts Collective and Matfield Green Works. When you set foot there, you can feel the energy of the land. Much of the Midwest used to be tallgrass prairie, but now less than 4% remains.  
What's your Kansas City story?
I immigrated here in the mid eighties. My dad was going to graduate school in Warrensburg, Missouri, and we had come to visit, but he didn't want us to leave, so we ended up staying here. I am now a military spouse and my family has been stationed in Fort Leavenworth for almost five years, the longest we have been in the same place in a long time. There's something about the Midwest that keeps pulling me back. We immigrated here and this is our second time being stationed here, so I really feel a connection to this land. When I pass by Warrensburg, Missouri and I see the signs for the town, something stirs in me, a pull to my past. When I immigrated here, it was really important for us to learn English and assimilate. This project is about reconnecting with this land and carving out space for myself, my children, and my memories through photography. 
How did all this culminate in the piece for Art in the Loop?
In the Art in the Loop piece, my daughter and I are wearing hanboks, traditional Korean dresses. When we made this picture, my children were five and seven, the same ages as me and my brother when we immigrated here. That didn't feel like a coincidence. I knew I wanted to bring these traditional Korean dresses, almost like an intervention on the land. When you think of the prairie, you think of cows and bison, farmland and farmers, settlers and of course the problematic mythology of cowboys and Native Americans. You don't necessarily picture immigrants on this land. Historically, our contributions and experiences have been easily overlooked or erased. With this image, I'm inserting myself and my cultural history into the preconceived notions many Americans have of this landscape. This is my way of creating new memories with my children. The land also remembers.
     The image is installed at the River Market North Stop, which is meaningful to me because my parents used to be weekend vendors at City Market. They used to sell goods like earrings and belts. My dad was in graduate school, so this was their only source of income. Having my work displayed there feels like a full-circle moment. I imagine them in this space, but now with their descendants watching over them from the future. When I went to see the piece for the first time, I got a little emotional thinking about the significance of that moment
How did you find out about Art in the Loop, and when did you decide to become a part of it?
I applied last year, and my work didn't get selected, but I applied again this year, and it was selected. I knew that Art in the Loop was a place where I wanted to show my work. I'm a big fan of public art. I don't think gallery spaces always feel accessible to everyone. Public art is great because it's out there in the open and anyone can engage with it. Art is something that creates community and that can create healing. When it's publicly displayed in a functional space, it reaches more people. And this interaction in turn changes the meaning of the work which is exciting to think about. 
How did you first hear about Art in the Loop?
I love being a Kansas City based artist because it really feels like a community. I know a lot of artists and photographers here and it's a very supportive community. There are so many great art organizations in KC like Art in the Loop, Charlotte Street and AI Hub. I found out about Art in the Loop because I've seen the work displayed over the years and always admired it and realized it added a little extra joy to the day, especially for my children, when we experienced the work at streetcar stops. 
How did you decide on the photograph for the Streetcar Stop out of all the pictures in your set?
The picture I selected embodied the story I was trying to tell as an individual piece. This piece is about everything that led up to the moment in the image and everything that is the future. The most important thing, though, is about being in the present moment with my children. The act of making this work and having it be a collaborative process with my children is what is at the core of this image.
How did you decide on the composition of the image?
As a photographer, you take a ton of pictures, especially if you have someone else clicking the shutter. My son was the one taking the pictures from a tripod I had set up. My daughter and I moved around a lot and tried different poses but I knew I wanted one image from behind which would create a little anonymity, like this could be anyone. In terms of installing the image, compositionally we just wanted to make sure the subjects fit in one panel on the streetcar stop. The subjects were on the right side of the frame, so it worked out. The panels on the left and right were AI-generated through a new Photoshop tool called generative fill just to extend the grass to the left and right to fit the dimensions of the streetcar stop.  
Thank you, Arin Yoon, for sharing more about your art and story!
---
For more information about Arin's artwork and the other artists featured this year, visit www.artintheloop.com
The 2023 Art in the Loop Project is made possible through the generous support of the KC Streetcar Authority, JE Dunn, Henderson Engineers, Stinson LLP, UMB Bank, and other corporate partners. This project is funded in part by the City of Kansas City, Missouri Neighborhood Tourist Development Fund, as well as by awards from the Missouri Arts Council, ArtsKC, and the Richard J. Stern Foundation for the Arts – Commerce Bank Trustee.
Project partners include the Downtown Council, Downtown Community Improvement Districts, KC Streetcar, and the Kansas City Art Institute.
For more information about the project and the artists, visit www.artintheloop.com or www.facebook.com/artintheloop
# # #
Contacts:
Art in the Loop
Ann Holliday, Program Director, ann@downtownkc.org, (c) 816-718-1355
Marissa Starke, Visual Arts Director, marissastarke@gmail.com, (c) 816-519-4236
Jade Osborne, Performing Arts Director, jademuse@gmail.com
KC Streetcar
Donna Mandelbaum, Communications & Marketing Director, dmandelbaum@kcstreetcar.org, (c) 816-877-3219
https://www.artintheloop.com/wp-content/uploads/2023/06/Here-with-you-800x800-3.webp
800
800
Keaton Lewis
https://www.artintheloop.com/wp-content/uploads/2020/07/cropped-2020ArtLoopLogoAll2-180x180.jpg
Keaton Lewis
2023-08-02 15:35:05
2023-08-02 15:35:05
'Here, with you' Interview with Arin Yoon