Flower Garden Installation featuring Alber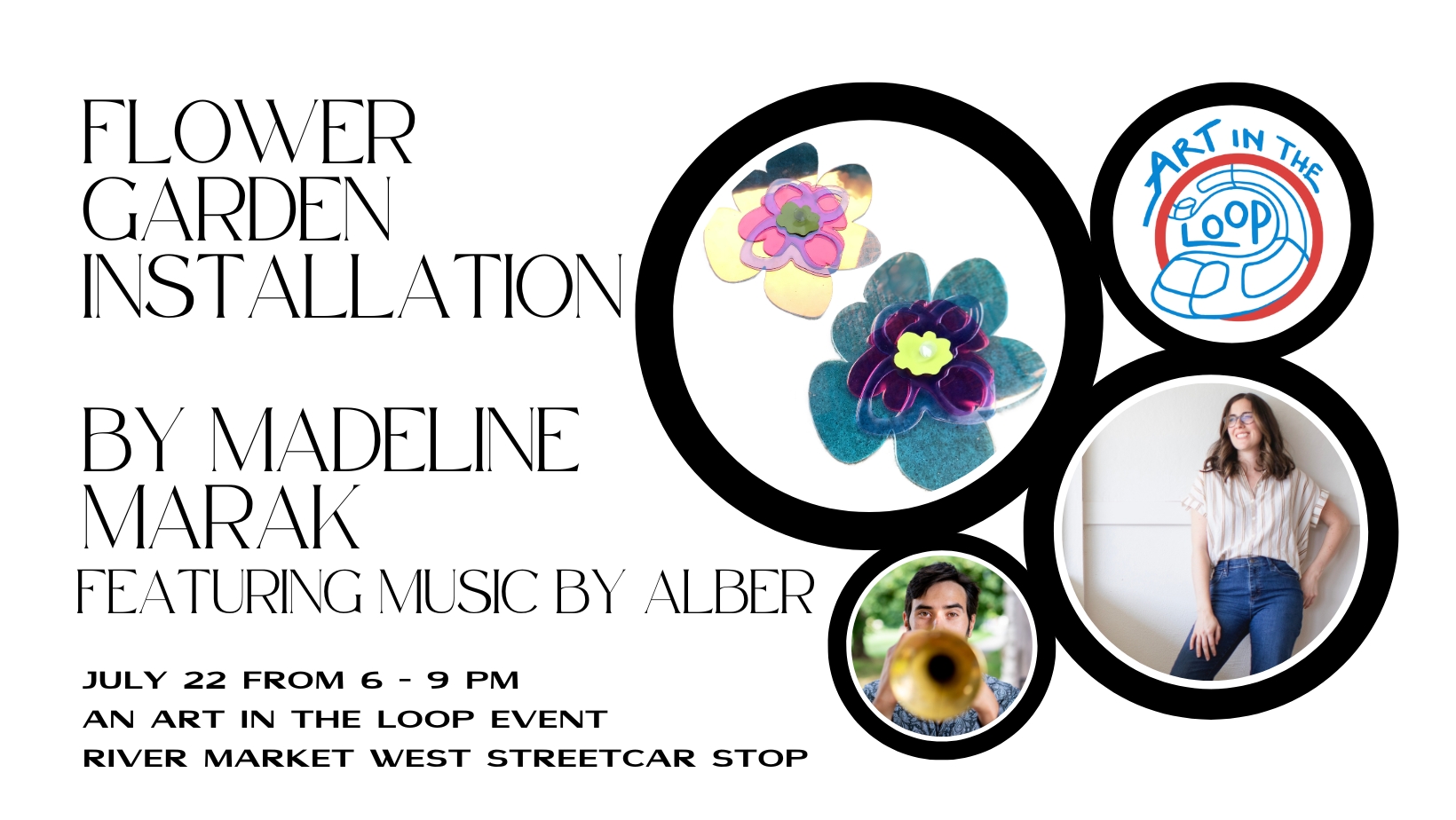 Join us for an evening helping to create art
2023 Art In the Loop Event, July 22, 6 p.m. at the River Market West Streetcar Stop

(Kansas City, Missouri) – The Art in the Loop Foundation is pleased to host an evening of community fun and music on Saturday, July 22 from 6:00 to 9:00 p.m. at the River Market West Streetcar Stop in Downtown Kansas City on the Streetcar Stop. Local artist Madeline Marak will bring her artful flower garden to life with the help of the Kansas City community. The community is invited to help install the colorful, acrylic flowers onto the back glass of the River Market West streetcar stop. As the flowers are assembled, each layer of transparent color interacts with each other to create new color combinations. Participants will also enjoy the musical styling of local contemporary jazz musician Alberto Racanati, a contemporary jazz musician originally from Italy and now working and living in Kansas City. Performing under the moniker "Alber," Alberto's music is deeply influenced by his connection to the city and his survey of its various musical cultures. This event is free, family-friendly, accessible, and open to the public.
RSVP Here: https://www.eventbrite.com/e/flower-garden-installation-day-an-art-in-the-loop-event-tickets-667812102977
The following artists will be featured at the July 22nd Flower Garden Installation event. More information about each of these artists can be found at www.artintheloop.com.
Madeline Marak: Madeline Marak is from Shreveport, Louisiana. She received her Masters of Fine Art from the Sam Fox School of Art and Design at Washington University in St. Louis and her Bachelors of Fine Art from Tulane University in New Orleans, Louisiana. She has recently moved to Kansas City to join the vibrant arts community and continue as a practicing artist.
Alber: Alberto Racanati is a contemporary jazz musician originally from Italy and now working and living in Kansas City. Performing under the moniker "Alber," Alberto's music is deeply influenced by his connection to the city and his survey of its various musical cultures. A synth-heavy electronic beat describes the bright lights of downtown and playful trumpet melodies gestures to the rich jazz history. Music that engages many generations and many cultures can culminate in a musical cocktail that pushes the boundary of what music can be.
Artists responded to the 2023 theme of "Celebrate" and addressed questions about how one defines celebration, what are the intersections between art, performance, and celebration and ways one can celebrate Downtown Kansas City.
---
The 2023 Art in the Loop Project is made possible through the generous support of the KC Streetcar Authority, Henderson Engineers, JE Dunn, Stinson LLP, and other corporate partners. This project is funded in part by the City of Kansas City, Missouri Neighborhood Tourist Development Fund, as well as by awards from the Missouri Arts Council, ArtsKC, and the Richard J. Stern Foundation for the Arts – Commerce Bank Trustee.
Project partners include the Downtown Council, Downtown Community Improvement Districts, KC Streetcar Authority, and the Kansas City Art Institute.
For more information about the project and the artists, visit www.artintheloop.com or www.facebook.com/artintheloop
# # #
Contacts:
Art in the Loop
Ann Holliday, Program Director, ann@downtownkc.org, (c) 816-718-1355
Marissa Starke, Visual Arts Director, marissastarke@gmail.com, (c) 816-519-4236
Jade Osborne, Performing Arts Director, jademuse@gmail.com
KC Streetcar
Donna Mandelbaum, Communications & Marketing Director, dmandelbaum@kcstreetcar.org, (c) 816-877-3219
https://www.artintheloop.com/wp-content/uploads/2023/07/Copy-of-Flower-Garden-Installation-PINK.jpg
1080
1080
Keaton Lewis
https://www.artintheloop.com/wp-content/uploads/2020/07/cropped-2020ArtLoopLogoAll2-180x180.jpg
Keaton Lewis
2023-07-18 16:00:50
2023-07-24 10:50:41
Flower Garden Installation featuring Alber