Hope & Gratitude
A KC Streetcar is transformed into a field of red poppies in a work titled Hope & Gratitude.
The artwork aims to honor, remember and celebrate all veterans who gave to our country while inspiring hope for the future. Local poet Glenn North took inspiration from the artwork to compose the poem "Standing Strong, An Ode to Kansas City."
During World War I the red poppy became a national symbol of hope and new beginnings, inspired by the battlefield poem "In Flanders Fields" by Lt. Col. John McCrae.  Ride KC Streetcar to the National WWI Museum at Liberty Memorial to learn about KC's important role during the war and view an installation of 9,000 symbolic poppies– each representing 1,000 combatant deaths, 9 million total.  This work by Ada Koch and poet Glenn North is a beautiful tribute to KC's long history of supporting and celebrating our local veterans.
Location
KC Streetcar Vehicle Wrap
Bio
Ada Koch – Artist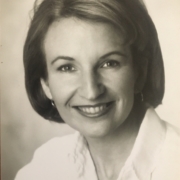 Ada has been a visual artist/activist/teacher in KC for 28 years, teaching at the Nelson-Atkins Museum, serving on local boards to promote the local art scene, and working with newspapers, magazines and radio stations to promote her work against violence. Her art is worldwide in notable collections including the Nelson-Atkins Museum, the Stowers Institute, JD Reece Company, and Overland Park City Hall to name a few.
www.adakoch.com
Facebook: Ada Koch
Instagram: artistakoch
Glenn North – Poet
Glenn is the Executive Director of the Bruce R Watkins Cultural Heritage Center and is currently filling his position as the Poet Laureate of the 18th and Vine Historic Jazz District. He has a noteworthy list of prestigious awards including fellowships with Cave Canem and Callaloo, awards from Charlotte Street and Crystal Field, and has had his work published in numerous books and journals, both locally and nationally.