Black Boy Joy by Khyneesha Edwards
Project Description 
I created 'Black Boy Joy' to celebrate Black men and boys unapologetically expressing themselves in ways that promote their happiness. The graphic features a Black man playing with a young Black boy. The man could be a father, big brother, or even a mentor to the boy. As they interact, the man shows the boy that it's okay to express his joy out loud. The term 'Black Boy Joy' has been uplifted in the Black community throughout the past several years. It encourages Black boys and men to embrace their positive emotions and take pride in being Black in ways that feel authentic to them. In America, Black boys and men are often expected to prioritize what society deems as masculine, and refrain from exploring traits that are stereotypically feminine. 'Black Boy Joy' disrupts the narrative that tells Black men to suppress their joy. Black boys and men deserve to live out loud and live in color. I believe in the longevity of Black boys and men, and I believe that longevity starts with celebrating joy. This world doesn't always make space for Black joy, but we don't have to wait for permission to take up space. And we shouldn't.
Location
Union Station
KC Streetcar Shelter
Bio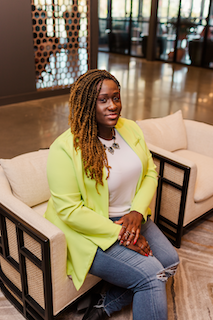 Khyneesha Edwards is a graphic designer, born and raised in Kansas City, Missouri. She works full-time as a graphic designer for a Washington D.C.-based digital marketing agency, takes on freelance clients, and offers career-consulting services with Resumes By Neesha. In addition to working full time and freelancing, Khyneesha serves on the board for AIGA KC, where she'll lead as President for the 2023-2024 term.
Website | www.khyneeshaedwards.com 
Instagram | @justsayneesh