Busy Bead Maze
Busy Bead Maze is a large-scale interactive sculpture made to spark the notion of play while evoking feelings of nostalgia and wonder. It functions as a playscape for diverse audiences and is intended to create interaction between people as they explore the movement of the beads. The form of this sculpture is inspired by a toy but acts as a symbol for discovery.
Location
West Terrace Park
8th and Pennsylvania
Bio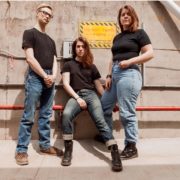 Michael Elwood is currently a junior at KCAI pursuing a degree in sculpture. He uses ceramics, assemblage, and performance to consider his own ideas, surroundings, and history.
Annelise Kinney is also currently a junior at KCAI studying sculpture. She incorporates performance, painting, and sculpture into her work to address desires and human needs such as social relationships.
Daniel Rawlings is a sophomore at KCAI pursuing a degree in Fine Arts. He is a woodworker from Oklahoma with a focus in lathing. Daniel is interested in contemporary styles in architectural design.
website: http://anikinney.wixsite.com/annelisekinney
Instagram: @melwood1235, @annelisekinney, @rawlings_art_stuff