SlinkyBall
The ball – the most ubiquitous of nostalgic toys. So simple, yet so diverse in its size, shape, color, material, and its limitless possibilities. The ball has become the universal symbol for play.
Denise DiPiazzo has combined this unassuming sphere with another iconic toy, the Slinky; simple in form, but kinetically exciting, to create an altogether new experience for participants. SlinkyBall is a large-scale installation located in West Terrace Park, a large spherical structure interwoven with brightly colored spiraling chutes. Visitors are encouraged to toss the balls into the chutes and watch them traverse the structure in a variety of paths to meet at a central gathering point.
Location
West Terrace Park
10th and Jefferson
Bio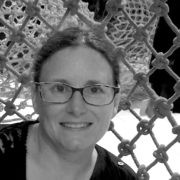 Denise DiPiazzo is an artist and architect based in Overland Park, Kansas. Throughout her career, she has produced a wide range of experimental environments across the globe. Her role as an artist is to inspire and intrigue by creating interactive, multi-sensory sculptures that combine layers of color, light, and form in playful and thought-provoking ways. With a strong belief in environmental sustainability, she explores a wide range of salvaged and recycled materials; transforming them with re-energized life with each new project.