Dieynaba Dress by Jennifer Lapka with A.P. Visual
Kansas City-based model Dieynaba Diop wears a Rightfully Sewn dress, photographed by the brand imagery and consulting firm, A.P. Visual. The pink botanical fabric is made from recycled plastic bottles and the dress was designed, patterned, cut, and sewn in Rightfully Sewn's Crossroads Atelier. Rightfully Sewn is producing high-end dresses, kimonos, button-up shirts, and athletic wear for clients around the country. 
Location
KC Streetcar Metro Center Southbound Stop
12th Street and Main St.
Bios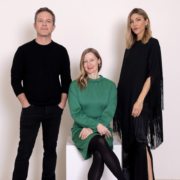 Jennifer Lapka is a nonprofit specialist and champion of Kansas City's fashion and art communities. Her career includes stops at institutions in London and Gateshead, England and Kansas City, including BALTIC Centre for Contemporary Art, Nelson-Atkins Museum of Art, Kauffman Center for the Performing Arts, Kemper Museum of Contemporary Art, and Victoria & Albert Museum. She founded Rightfully Sewn in 2015, an organization creating jobs and opportunities through the business of fashion. They do so with a seamstress training program, fashion designer professional development program, public sewing classes, and apparel production services.
A.P. Visual creates content for local companies, national brands, and style publications. Creative director Amy Appleton Dreyer and photographer Paul Versluis have collaborated since 2013, working extensively in the fashion industry. With a keen eye for style and imagery along with a like-minded aesthetic, this dynamic duo has created content for local companies, national brands, and style publications. Their artistic chemistry and fresh outlook on brand imagery make A.P. Visual uniquely positioned to fill a void in the market for up-and-coming companies.
Rightfully Swen
Website: www.rightfullysewn.org 
Instagram: @rightfullysewn
A.P. Visual
Website: www.apvisualkc.com 
Instagram: @apvisualkc