Generations by DINKC
In the process of creating this work, DINKC researched what sustainability meant and found the four pillars of sustainability: Social, Economic, Environment, and Human.
He realized that the one thing that could merge all four pillars was COMMUNITY. He then illustrated his version of the KC community. Many of the elements in the artwork are representative of something important and meaningful to his life. 
The KC letters on each side represent both KCMO and KCKS. In-between there are a variety of cartoony DINKC skull characters showcasing generations. From the old Abuelo (grandpa) selling paletas (ice cream) to a couple, a younger adolescent, a toddler, and a baby. These figures represent the importance of family unity and tradition. 
The vegetation elements like roses, cactus, and strawberries symbolize gardens for food and business. The four pylons of the Kansas City Convention Center are also shown with a colorful Kansas City background showcasing some local businesses/neighborhoods. The Mickey ears on some of the characters are a nod to Walt Disney's time in KC. The bricks represent both breaking barriers and building up the city. 
The artist wanted everyone who sees the artwork to immediately be wowed, and then take their time to truly see the bits and pieces that make up this great city that are sometimes overlooked, yet have contributed to and helped build KC through sustainable community support.
Location
KC Streetcar Power & Light Stop, Southbound, 14th and Main St.
Bio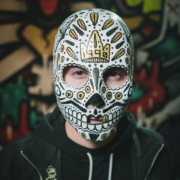 The DINKC Brand was born in Kansas City in 1990. Heavily rooted in Mexican-American cultures, graffiti/street art influence, and "DIA DE LOS MUERTOS" Skulls x Beliefs. DINKC presents the various realms in which he loves to explore and showcase his style. By utilizing illustrative design at its core, his work expands into galleries, murals, custom merchandise/apparel, and commissioned work. Through his craft, DINKC embodies strong brand ideals, unforgiving boldness, and passion. El Vivir Es Morir.
Website: www.dinkc.com
Instagram: @dinkc  
Facebook @dinkcstudios