Love and Bee Loved by Katrina Revenaugh
With Love & Bee Loved, I merge a deep passion for graffiti with street-inspired botanicals. Pre-Covid, my creative process began by photographing graffiti in cities around the world. From those photos, I would dissect elements of color, gestures and words to use as street "ephemera". While the Pandemic made traveling to shoot impossible, it forced me to completely re-evaluate my art practice: to pivot, to be resilient!
I began photographing botanicals in gardens in and around Kansas City and continue to do so. The quiet beauty of nature has become my refuge. This creative exploration helped me realize just how fortunate I am to love (my life, my husband, my family) and to be loved when so many people continue to struggle. 
Yet, I feel the emotional weight of a country still divided as we emerge from the Pandemic. Love & Bee Loved is meant to ease that weight—if only for a moment— to draw the viewer into an unexpected world bursting with uplifting graffiti forms, color and larger-than-life botanicals. 
A world where bees and butterflies signify nature's strength and remind us that we are resilient too—where Love is Louder, Love is Love and we all Play Nice! 
Bio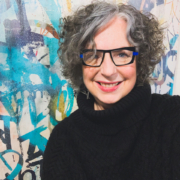 Katrina Revenaugh is a mixed media artist who merges her deep love of graffiti into mixed media botanicals or abstracts. Her digital collage process combines photography with traditional painting techniques onto wood, metal, and canvas—transforming the grit of urban street art and all things botanical into her own artistic expression. She first fell in love with graffiti while living in Los Angeles and attending Otis College of Art & Design. Katrina is represented by Weinberger Fine Art and a member of both the Kansas City Artist Coalition and the Kansas City Society of Contemporary Photography.