Anomalous City
The Mnemosyne Quartet and Zach Shemon present Anomalous City.  This project plays on the observers' perceptions and their ability to cope with unforeseen environments within their own set of expectations. Anomalous City transported the sounds of the natural environment into the urban landscape of Prairie Logic, as well as exaggerate sounds already present in the park. The introduced environments ranged from remote landscapes–such as the African jungle or Australian Outback –to an augmented reality of the urban landscape, and then to a future where an artificially intelligent being becomes active, adding to the sound of the digitally driven modulated environment, engaging the observers' imaginations with it's foreign and unique sound. Anomalous City featured music composed by members of Mnemosyne Quartet as well as Dr. Mara Gibson.
Date & Location
This performance took place on Tuesday, August 25 at 7 p.m. at Prairie Logic (the 6th floor greenspace on the parking garage, just north of Cosentino's Downtown Market).
Bio
Mnemosyne Quartet is dedicated to heightening bystanders' awareness of the auditory environments they interact with on a daily basis. Mnemosyne not only augments the listener's physical environment, but also transports the listeners to remote destinations through the use of pre-recorded sound. They specialize in the creation of well-formed improvisation though the integration of old and new technologies. Mnemosyne recently performed for the opening of Adam Cvijanovic's American Montage at the Kemper Museum of Art. Other notable performances include Analog Drift, a cross-disciplinary ArtSounds performance, and the inaugural Art in the Loop Foundation's (AILF) 2014 Downtown Kansas City Street Art/Placemaking Pilot Project. Mnemosyne consists of Michael Miller- bass clarinet, Russell Thorpe- saxophone, Ted King-Smith- saxophone, and Eli Hougland- electronics.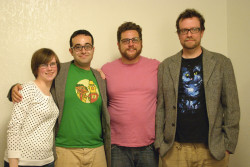 Mnemosyne Quartet- soundcloud- Stasis Oasis
Zachary Shemon is Assistant Professor of Saxophone at the University of Missouri – Kansas City Conservatory of Music and Dance. Since joining the PRISM quartet in 2007 as the ensemble's alto saxophonist, he has recorded on the Albany, innova, Naxos, New Dynamic, and New Focus labels and performed on many of the world's leading festivals for contemporary music including the Bang on a Can Marathon, Beijing Modern Music Festival, and SONiC Festival. He holds degrees from the University of Michigan and Indiana University, where he studied with Donald Sinta and Otis Murphy, respectively. Zachary Shemon is a Conn-Selmer artist and performs on Selmer (Paris) saxophones. As a D'Addario Woodwinds artist, he performs on Reserve reeds and aids in product research and design.