Night People
The freaks come out at night.
Take a peek into the uncool world of artist Stephen Proski with his piece, Night People, a vinyl image at a streetcar shelter stop. In it Proski illustrates the humor and chaos he witnesses every day as a regular commuter and active observer of the streets. In his characteristic force-fitting, colorful style Proski explores what it means to be a commuter of public transit, and what kind of experiences are possible.
Location
KC Streetcar Crossroads  Stop (Southbound)
19th and Main St.
Bio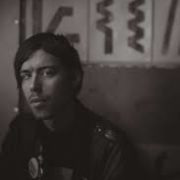 Stephen Proski was born in 1988 in the bay area of California and raised in Phoenix, Arizona. In 2010, he graduated with a BFA from the Kansas City Art Institute with a degree in painting and creative writing. His work is lugubrious yet comical and writhes on the brink of a painterly language influenced by the chaos and uncanniness that occurs in cartoons. He has shown his art locally at the Nerman Museum of Contemporary Art, 50/50, Bunker Center for the Arts, and Epstein Gallery and nationally at the Smithsonian Institute in Washington, DC, and Red Fox Gallery in Bedford, NY.
website: www.stephenproski.com
Instagram: @stephenproski