Places!
Places! will use poetry and prose presented in theatrical style to illustrate listening for, responding to, and acting on the cues present in our lives and communities for change. The performance will include original poetry and prose written about themes of anxiety, resistance, and hope in the world around us. The pieces performed will demonstrate 1) upheaval as an opportunity to cue the best in ourselves and 2) uncertainty as a cue to hold fast to what is known for certain. Some of the pieces will be interactive to promote audience engagement. The goal is to demonstrate how we may begin to/continue to ready ourselves for the times life calls, "Places!".
Time & Location
Wednesday, September 13, 2017
11:30 a.m. to 1:30 p.m.
Kansas City Public Library Central Library, Kirk Hall
14 W. 10th Street
Bio
Annette Hope Billings is known for the dramatic presentation of her work. She is an award-winning poet, actress and playwright. Her most recent collection of poetry is "A Net Full of Hope," available on Amazon.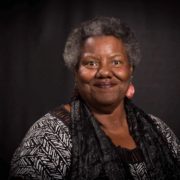 Website: http://anetfullofhope.com/
Twitter: @annettebilling3