Pop-Up pARTy
For their Alter: Pop-Up pARTy work for Art in the Loop, Boi Boy and Bo have created an interactive art installation seeking to actively engage streetcar riders on their way home from work. Shake off a mundane workday with a spontaneous and inclusive dance party! If you're not a dancer, stay and watch performances by local, eclectic artists. This exploration of nightlife during the afternoon encourages riders to interact with their neighbor, break down social barriers, and start the weekend with a fun, relaxing and positive experience. Alter Art just wants to have fun.
Location
KC Streetcar Union Station Stop
Friday, August 24th, 5-7 pm
Bio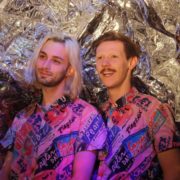 Boi Boy & Bo Hubbard's collective Alter Art Space strives to bring excitement and energy to the Kansas City art community through unexpected programming and interactive events. By utilizing the talents of local musicians, dancers, and actors they are able to expand upon traditional notions of theater, galleries, and night-life. They are known throughout the community for their immersive events held the last weekend of every month in the West Bottoms.
Boi Boy is a Kansas City native and recent graduate of the Kansas City Art Institute Fiber department. Boi has worked with Peggy Noland, PLUG projects, amongst other arts organizations in the area.
Bo Hubbard is from Oklahoma City and moved to Kansas City to attend the Kansas City Art Institute, from which he recently graduated with a BFA in painting.
Alter Art Space is funded by the Meow Wolf DIY Award, as well as a 2017 Rocket Grant, made possible by the Andy Warhol Foundation, the Charlotte Street Foundation, and the Spencer Museum of Art.
website: http:www.facebook.com/alterartspace
instagram: @alterartspace