public2, is a mixed reality, geolocated performance taking place at three Kansas City Streetcar stops. Choreographer Jane Gotch, in collaboration with videographer Ian Garrett, will create a site-specific virtual reality dance at each stop, and a single culminating live performance.
Public art acts like a microscope, directing attention towards overlooked and mundane locales within a city. The performer's body becomes something between the artistic tool and the medium, embodying qualities of both camera and canvas. Through public performance, we generate a conceptual feedback loop by documenting and describing the environment's history, architectural features, and inhabitants while simultaneously becoming new pieces of history and architecture.
public2 goes a step further and reimagines what "public space" is, and how it is created and accessed within a city. Gotch proposes that public space isn't just a segment of land designated by a city planner, but it is a mindset shared by the inhabitants who occupy any public space—literally, the ground they are standing on. public2 gets people outside in the downtown core while accessing art and technology together.
The website for the project is publicsquaredkc.com.
Location:
Union Station, Library, and River Market West KC Streetcar Stops
Bio:
Jane Gotch is a Kansas City and Toronto based choreographer. She is originally from Omaha, Nebraska, and graduated from The University of the Arts in Philadelphia with honors in 2000. Her choreography has been awarded a Rocket Grant from The Andy Warhol Foundation in collaboration with The Charlotte Street Foundation and The Spencer Museum, three Inspiration Grants from ArtsKC, the Regional Arts Council of Kansas City, The Innovation in the Arts Award from UMKC's Small Business and Development Center, and The 2014 Charlotte Street Foundation's Generative Performing Artist Award. Her choreography has been presented by The Fifth Stop Open Studios (Brooklyn), Movement Research at Judson Church (NYC), Roulette (Brooklyn), The Bentway and I/O Movement (Toronto), Long Winter Arts (Toronto), The Iron Factory (Philadelphia), The Philadelphia Fringe Festival, The Charlotte Street Foundation, The Belger Crane Yard Gallery, The Lawrence Arts Center, The Spencer Museum, and The Nelson-Atkins Museum of Art.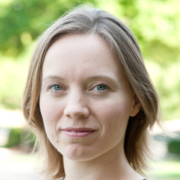 website | janegotch.com
instagram | @janegotch
facebook | jane.gotch
Click here to add your own text