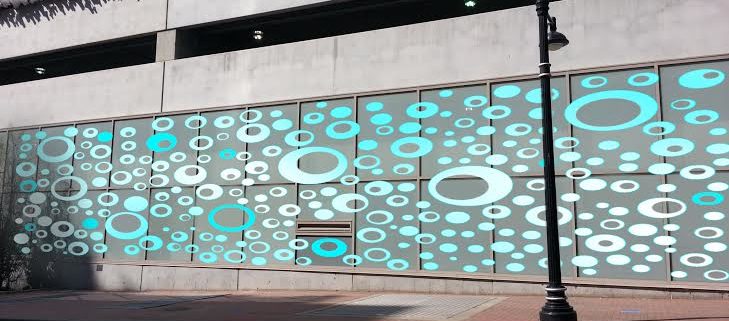 Poke-a-Dot
Poke-A-Dot is a minimalist project that respectfully acknowledges and responds to the permanent artwork "Barnacles" by Egawa + Zbyrk, while also allowing the public to actively manipulate and even possess the temporary intervention.
Passers-by are encouraged to re-position the elliptical decals to form new abstract compositions and to take a few with them to create new smaller works elsewhere. Just play.
Artist Statement
The most important thing to understand about my life as an artist is the process of how I work; not necessarily the end result of my process. As it is, I work in various media – textiles, resin, ceramics, drawing, and painting; sometimes combining media, sometime not. I am attentive to the passing down of knowledge and handcraft from one generation to another and especially interested in working with concepts of awareness and consciousness. So, physical processes and materials become vital parts of this story. Material becomes metaphor. Process becomes transformation. Dissolving, revealing, and encapsulating become reflections of the human state in subtle form – the relationship with one's self, others, our environment and existence. For example, textiles can reflect malleability, a softness of drape and flow. Incorporating resins into this foundation alters the language, eradicating hallmark qualities of textiles while assuming new traits. The juxtaposition of such opposing symbols in this language of materials and processes speaks to the subtleties and complexities of our fragile and precious existence.
Date and Location
Poke-a-Dot was installed on the east facade of the Cosentino's Garage on Walnut between 12th & 13th Streets, from November 2014 through January 2015.
Bio
Rachelle Gardner grew up outside a small town south of Kansas City, Missouri. While hearing the artist's call at an early age, she developed a knack for drafting and received her undergraduate degree in Interior Architecture from Kansas State University. She worked as a woodworking and design apprentice before inevitably being drawn back to the fine arts. As a mixed media artist, her practice includes ceramics, painting, woodworking, resin, and an emphasis on textiles. Her work has been included in international exhibitions and she continues to exhibit nationally. Among other honors, Gardner has received multiple Inspiration Grants from the ArtsKC Regional Council, Kansas City, MO; The Presidential Scholarship from The Anderson Ranch Arts Center, Snowmass Village, CO; The Urban Culture Project Residency, Kansas City, MO, and an Escape to Create Residency of Seaside, FL. Gardner resides in Mission, KS, and is currently opening her own studio and gallery in Kansas City, MO.