Under One Sun, One Moon and On One Earth by Smitha George
Diversity is the mix,
Inclusion is the ability to make the mix work
by Andres Tapia
This is a narrative piece for the present moment. The year 2020 has seen lots of ups and downs. Surviving through the pandemic, witnessing racial injustice, and adapting to some life-changing experiences. Many times we fail to show that understanding and acceptance towards each other. Each place in this world has become a lot more diverse compared to centuries back. Now we meet so many strangers from different cultures, races, and faith every now and then. 
The words I look for are United and in Harmony. Unity is all about looking out for each other, opening up communication without hurting one another, and building a positive environment for the coming generations.
The artwork brings forth the unity of the community through each individual's uniqueness. Diverse united through humanity. We all stand together on one earth, under one sun and Moon. I started this painting intuitively and let the painting evolve as I continued to paint. My painting explains how we need to embrace our unity on this planet. Each color in the painting is a representation of the sun, moon, and earth.
The portraits on the painting represent unity in the community irrespective of color and race.
Location
KC Streetcar River Market West Stop
4th & Delaware
Bio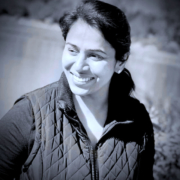 "For me, art is an expression of my ideas and feelings to my viewers in simple language that I can't do in words "
Smitha George is a self-taught artist with a love for wildlife and nature. Smitha has had the privilege of living and growing up in different parts of India. The majority of her childhood was spent traveling which helped her understand different cultures. After majoring in finance and working in the field for many years, she decided to take a break when she moved to the USA. This gave her an opportunity to dive deep into the world of art.
For her, painting is a different language and an expression of ideas. All the artwork is inspired by the day-to-day things she sees around her, be it the current political, social issues or simple things from nature. In her work, the subject matter determines the materials and the forms of the art. Smitha strongly believes that public art contributes to cultural, economic, and community vitality. Through her art, she wants to be part of this experience.
In 2017 Smitha began painting professionally, since then there has been no looking back. Her first group show was in 2017 and from then on she has had many solo and group exhibitions in and around Kansas City. She also had the privilege to jury many art shows. She also enjoys working on many commissioned works. Smitha now works from her home studio.