Beyond the Looking Glass by Will Dubois
Digital technology provided a way to connect despite physical distancing. As people begin to meet again in person, Beyond The Looking Glass acts as a backdrop in the cityscape for reflection or to recreate digital connections in the physical world.
Location
KC Streetcar Crossroads Stop
19th & Main
Bio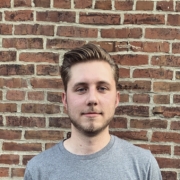 Will Dubois is an architect based in Kansas City. The people, places, and events of the City often are the source of inspiration for his work. 
Instagram: @2TheVille
Twitter: @ToTheVille