Take Care of Who Cares For You by Sol Anzorena
Pachamama is a goddess revered by the indigenous peoples of the Andes. She's Mother Earth, goddess of fertility and life-giver. Anzorena's painting "Take care of who cares for you" serves as an open invitation to relate to Nature as a mutual giver and caretaker of her inhabitants. It's a reminder of the magical existence of life on our planet and how we should show our gratitude – caring and taking care of her. 
This digital image was initially created to be part of an international illustration movement called Our Planet Week, where for each illustration submitted a tree was planted in Uganda by the nonprofit organization One Tree Planted. I adapted my first piece so that now it can be enjoyed by the public on a large scale. In its new form the light passing through plays an important role, making it look like a stained glass window. 
Location
KC Streetcar River Market West Stop, 4th Street and Main St.
Bio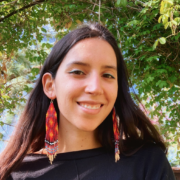 My name is Sol Anzorena and I'm a visual artist, photographer, muralist, musician, and self-taught jewelry maker. I was born in Argentina, but for most of my adult life I've been a nomad and now I reside in the US. My work centers around Nature and the redemption of humanity's relationship with it. So that my art remains consistent with my values, I use eco-friendly, vegan, and upcycled materials to make my pieces. In the act of making beautiful art, I believe we must not contaminate the Earth which inspired that beauty.
Website: solanzorena.art
Instagram: @sol.anzorena.art