SOLLUS
SOLLUS, performed by the trio of the same name (consisting of composer Rev. William Ellis Bradley and performers Joey Watson and J. Ashley Miller), is a long-tone composition based upon the orbital patterns of our solar system's celestial bodies and is played using solar-powered instruments built by Rev. Bradley.
Eight, solar-powered, dual-tone drones (each tuned to and representing a single planet in our system) will act as a tonal cluster suspended throughout the entirety of the piece, upon which the trio will layer a perpetual canon played using solar-vessel flutes. As the trio's minimalistic round continues, the players allow themselves to progressively slip atop one another, thickening the already present tonal field. An opaque cloud of drones, climatically swaying and modulating with the sun, fills the soundscape, alerting us to the presence of our planet's relationship to its life-source.
Date and Location
This ethereal seance will take place in Oppenstein Park on Thursday, August 20, from 11:30 a.m. to 1:30 p.m.
Bio
Rev. William Ellis Bradley is an experimental luthier and sound artist who has received degrees from from the Kansas City Art Institute (Sculpture '14) and the Alternative School of Fine Art at Wickerson Studios (Alternative Fine Arts & Sound '15). In his work, Bradley attempts to elevate the spirituality of sound through audio performance utilizing his hand-assembled solar powered instruments. The ensemble SOLLUS (consisting of Joey Watson and J. Ashley Miller, led by Rev. Bradley) emphasizes the universal language of waveforms through long-tone performance based on the orbital patterns of our solar system.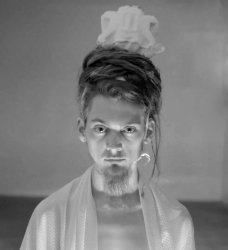 Instagram:
Bradley: rev.web, Watson: neutral_karma, Miller: jametatone