Tact is an interactive large scale installation in Kansas City's Washington Square Park focusing on community interaction, call to action, prayer ritual, and the idea of sacred space. Referencing many sacred sites across the nation and alongside American highways, chain link fencing surrounds a cluster of redbud trees in the park with each fence covered in ribbons and objects of ritual and prayer by visitors over the span of four months. Washington Square Park has been the home to many gatherings, protests, engagements, meetings, and events. By installing Tact in Washington Square Park, the environment will be activated in a way that creates a visual memorandum of its history. The etymology of the word 'tact' comes from the third conjugation of the latin verb tango: tactus, meaning 'sense of touch'. Tact is a nod to the tactile-ness of this piece, as well as a nod to the more modern meaning of the word 'tact', meaning sensitivity, understanding, or thoughtfulness. In observance of this year's Art in the Loop theme of Make/Believe, Tact invites viewers to do just that, to make and believe for just one moment during the day.
Location:
Washington Square Park
Pershing and Main St.
Bio:
Ari Fish received her B.F.A. in Ceramics from the Kansas City Art Institute. Her work spans many media, from sculpture and photography to clothing design, drawing, writing, and large scale multi-media installation. Fish's work integrates elements of sacred ritual, religious study, multi-sensory saturation and deprivation, and stresses an emphasis on both survival and spiritual necessity. She is a Charlotte Street Visual Artist Fellow and a two-time recipient of the ArtsKC Inspiration Grant.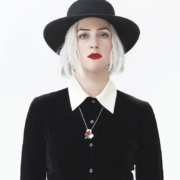 website | www.arifish.com
instagram | @ari_fish_studio
facebook | www.facebook.com/arifishart