YOU ARE HERE BY DAVID LOEWENSTEIN
In this image, the earth dips down from above with North America at the center. For many, it will look upside down with north at the bottom and south at the top.  Viewing the planet from this uncharacteristic angle presents the possibility of reorienting ourselves to the place we all live without the assumptions and regional discriminations that come with national borders and notions of south and north, hard wired into nearly all modern images of earth.
Location
KC Streetcar Union Station Stop
Pershing and Main St.
Bio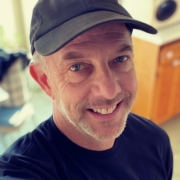 Dave Loewenstein is a muralist, printmaker, and community organizer based in Lawrence, Kansas. His community-based murals can be found across the United States, and in Northern Ireland, South Korea, and Brazil. Loewenstein's prints, which focus on social justice issues, are exhibited internationally and are in the permanent collections of the Museum of Modern Art in New York, Yale University,  and the Center for the Study of Political Graphics in Los Angeles. He is the co-author of Kansas Murals: A Traveler's Guide, a 2007 Kansas Notable Book Award Winner, and is the subject of "Called to Walls" [http://www.calledtowalls.com/], a feature-length documentary that premiered in 2016. He is currently working as a part of the leadership team for the In 'zhúje Waxóbe/Sacred Red Rock Project centered on the rematriation of a stone sacred to the Kanza People.
Website: www.daveloewenstein.com
Instagram: @daveloewenstein