Mother by David Wayne Reed
The native tallgrass prairie is one of the most diverse ecosystems in the world, rivaling that of the Amazon rain forest.  Once extending over millions of acres across the Great Plains, this rare landscape has largely been uprooted, destroyed by plow, westward expansion, and incessant development.  Only 3% remains, left scattered across the plains in strips, jags, and remnants.  Most people who live here are surprised to hear this. 
Land is both home and habitat; a narrative of balance, interdependence, and co-existence. These native prairie remnants root us in not only the layers of our history, but in our personal identity and connection to place, thus holding our pasts, our peoples, and our hopes for the future seeded in this fertile yet disappearing soil. 
This image is both metaphor and reminder of the lands lost and the flowers that remain as well as an emergent benediction and call to the conservation and sustainability of this rare and endangered ecosystem.  
By placing this image within the frame of an urban landscape, it serves as a poignant reminder of what came before while paying respect to what has been irrevocably lost. 
Location
KC Streetcar Kauffman Center Southbound Stop, 17th Street and Main St. 
Bio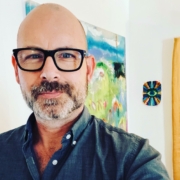 David Wayne Reed (he/him) is a writer, director, and producer whose work can be found on page, on stage, and on screen. Works include: land and flower, Eternal Harvest, Help Yourself, Goliath, and Jolly Rancher, as well as the live storytelling show, Shelf Life.  Reed was appointed to the Kansas City Municipal Art Commission in 2020 and serves on the Executive Committee for the 1% for Public Art at the new KCI airport terminal.  He is the 2019 Charlotte Street Generative Performing Arts Fellow and named One of the Reasons We Love KC Now by the Pitch. 
Website: www.davidwaynereed.com
Instagram: @davidwaynereed