Sauce is the moniker of KCK native and local hip-hop artist Royce Handy. Like many kids, Handy would get in trouble and often found himself grounded at home, and he used that time to read and write. He discovered an affinity for language, and specifically the inherent rhythm of putting words together to create narratives and poetry. Over time, Handy learned to create beats for his words. This talent combined with the knowledge and experience of growing up on both sides of State Line and witnessing violence first-hand culminated in Sauce's message: violence is not necessary. 
Sauce takes his music and his positive message to anyone who will listen. He is a non-violence advocate for the city and has volunteered with churches, schools, and urban youth organizations, as well as organizing anti-violence protests in the community. Providing soulful & empowering tunes, Kansas City native, Sauce, guarantees a live performance that will inspire any & everyone.
Catch Sauce's inspiring performance Wednesday, August 22, from 11:30  am – 1:30 pm at the Metro Center KC Streetcar Stop, 12th & Main Street, near Plowboys.
For more information, albums and performances, check out Sauce's Facebook page.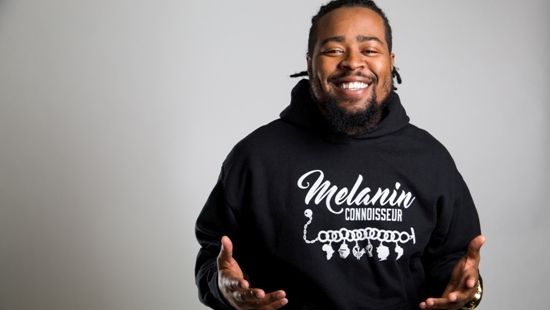 https://www.artintheloop.com/wp-content/uploads/2018/08/Screenshot_2018-08-17-11-57-53-1.png
975
936
Ann
https://www.artintheloop.com/wp-content/uploads/2017/04/ArtintheLoopLogoWhite-250x250.png
Ann
2018-08-19 11:24:33
2018-08-17 15:27:44
Music Series: They Call Me Sauce