'Party Balloons' Interview with BubbleGum Kurt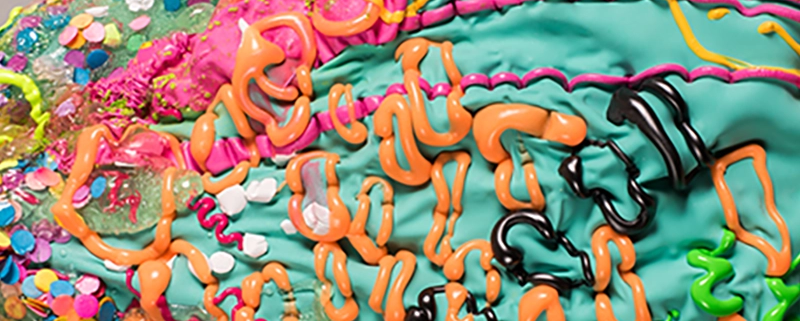 'Party Balloons' Interview with BubbleGum Kurt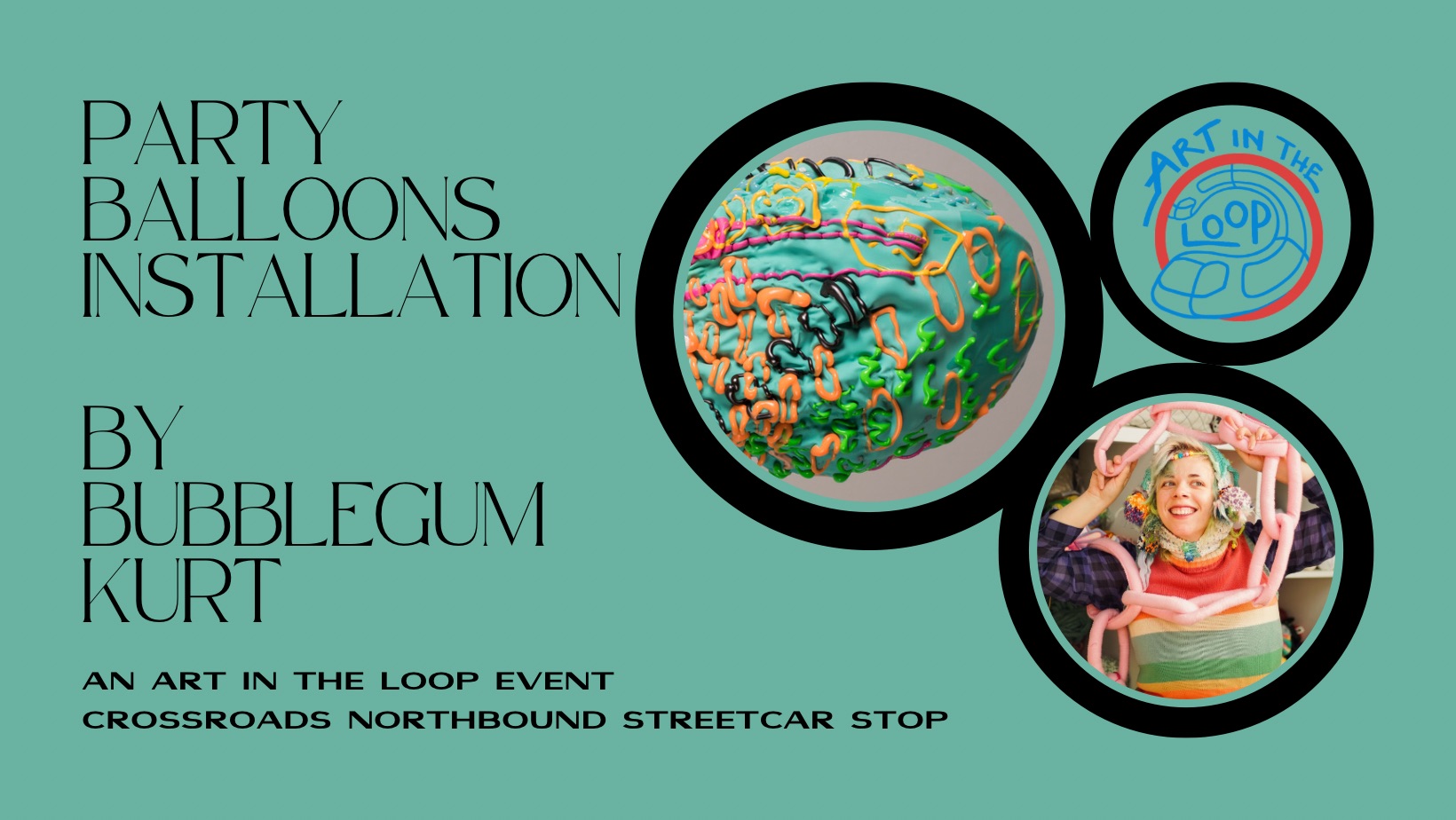 BubbleGum Kurt will be at the Crossroads Northbound KC Streetcar Stop this summer as they install their Live Painting! We interviewed the artist to learn more about the original artwork Party Balloons that inspired the live painting. Stop by regularly and enjoy their monthly visit to the artwork site as they add to and grow their celebratory Party Balloons installation.
July 7th from 5 – 8 PM
August 11th from 6 – 8 PM
September 1st from 6 – 8 PM
October 20th from 6 – 8 PM
November 3rd from 6 – 8 PM 
Can you give a brief introduction to Party Balloons?
This was originally a series I did during my undergrad. It was initially several party balloons. The process was to inflate a balloon, add stuff onto it layer by layer, and then let it slowly deflate. I took pictures of the process of decaying and of the fully deflated balloons. In school, it was more like throwing spaghetti at the wall and then analyzing why I did that later. I'm definitely that kind of creator. Looking back on that, I wasn't in a good mental state, and so when I was making things, I wanted to pile things I loved onto other things to create joy in my art where I couldn't find it in my normal life. Then, watching the balloon deflate and decay while still holding that joy felt very beautiful and sad at the same time. I still want to unravel what that means, which I think is why I want to revisit it. While I've definitely evolved from my past work, I still like to look back and question why I was drawn to those images and ideas.
Why a live painting?
I wanted to mimic the process I did with the original project. Adding more images onto something over time. I've always been really interested in patterns. Repetition but not exact repetition. There's that human element of trying to draw the same thing over and over again. I loved how "in the moment" Party Balloons were and the stuff that was created either by my hand or with the materials decaying. When I submitted my proposal for a live painting, I wanted to pay homage to the original work.
What has been your live painting experience before this?
I'm not much of a painter. I do a lot of printmaking, mostly, and I do love to draw. For me, painting is another way of processing what I'm drawn to imagery-wise. I have a lot of experience with live performance. I have a series called Birthday Party, where I make an installation and perform in it. I also invite people to perform in the space with me. So I have experience with live performances in front of people but also with an interactive element. I'm pretty comfortable performing, but I don't think I've ever done a mural. I've assisted with mural paintings but never painted my own piece, so for me, this is definitely a meeting of mural painting and the performance aspect of it. I also find painting very meditative.
What do you find meditative about it?
I really love getting in the zone of making marks, and many of my pieces involve repetition. I use a lot of repeated images and symbols. Smiley faces, for example. I repeat those smiley faces over and over and over again, but they're all slightly different. I find that meditative and beautiful how I'm doing the same mark, but it's always slightly different. It's similar to this performance exercise where you say the same word over and over again until it loses its meaning. Your mouth becomes this way of making a sound that used to be a word that makes sense, but now it's devolved and becomes this noise. That's what I'm going for.
What are your plans for each session?
The goal is to have a good product done by the end of each session but still with room to grow and add for the next session. I want to challenge myself to get something to a good spot but add more. The first session is the only one I have a clear plan for. I'm going to start by gridding out the image of the balloon to be the size of the streetcar shelter. Then I will tape butcher paper or newsprint to the back to act as my skeleton. I'm going to be painting the bones of the balloon rather than an exact pattern. From there, I want to find a good flow of how to fill in the deflated balloon. I like to add negative space to my pieces, so I have a tester of the vinyl, and I'm working on how to remove paint from it so I can make negative space.
What are some of the challenges you're worried about for this long project?
I'm worried I'll get visually stuck. By the third session, I might walk up and have no idea what to do, which is an anxiety I frequently have anyways. Still, I'm confident I'll be able to come into each session and be excited about what I'm making. Another thing about doing interactive public works is that you can have all these great conversations with people. Still, there is that worry of someone coming up and trying to challenge and degrade what you're doing. It's happened to me before, so I'm definitely worried about that. Overall though, people are usually excited about the art.
How do you feel when people talk to you and ask questions?
I typically have a very performative energy, but adding on painting is a new layer. I think either no one will want to bother me, I'll just be painting and chilling, or one person will start talking to me. Then that'll bring in more people asking questions and interacting with me. Both possibilities would be great and fun. I love talking about my work, so I wouldn't have a problem with people asking me questions.
What has been your experience with Art in the Loop?
I'm not originally from Kansas City. I moved here about 5 years ago, and I didn't have a car for the first year and a half, so I took a lot of public transportation. I took the streetcar to the farmers market every weekend, and I remember seeing the Art in the Loop art at the stops. I particularly loved one that looked like a word search, but it was rubber bands, and you had to stretch it out. Basically, I'd interacted with the projects in the past. I feel like my creativity comes from my childhood because my parents were really weird decorators. They would put stuff up on the walls that was not wall hanging stuff like baskets and hats and stuff they would find on the ground. Being exposed to creativity, especially at a young age, is so important. I think it's great that we have that in this city. It's great having art in a public place for all to see. Creativity is an underdeveloped skill in a lot of ways, and I think it's a good foundation tool for growing up and learning.
Why did you decide to apply this year?
I am an artist who mainly functions in the DIY space. I've done lots of cute galleries in town that are run by younger artists and smaller events like that. I've been trying to apply for more formal spaces. I got a piece at The Box Gallery, which felt great, and I applied to Art in the Loop in the past, but looking back, I was not developed enough as an artist.
What attracts you to Art in the Loop?
Putting art in public spaces and places where it normally isn't is very important to keep it as a pillar of our society. It's a great way to celebrate local artists, and it's extremely important that they're actually paying their artists and valuing their work. There's so much room for it to grow; I can't wait to see how it develops. Having art be present as a young child can shape people. Kids can challenge that part of their brain and be excited about something. Art is this whimsical thing that can challenge people of any age and make people excited again. Art is so influential in kids' lives, and to keep it once you grow up is so important.
Thank you, BubbleGum Kurt, for sharing more about your art and story!
---
For more information about Kurt's artwork and the other artists featured this year, visit www.artintheloop.com
The 2023 Art in the Loop Project is made possible through the generous support of the KC Streetcar Authority, JE Dunn, Henderson Engineers, Stinson LLP, and other corporate partners. This project is funded in part by the City of Kansas City, Missouri Neighborhood Tourist Development Fund, as well as by awards from the Missouri Arts Council, ArtsKC, and the Richard J. Stern Foundation for the Arts – Commerce Bank Trustee.
Project partners include the Downtown Council, Downtown Community Improvement Districts, KC Streetcar, and the Kansas City Art Institute.
For more information about the project and the artists, visit www.artintheloop.com or www.facebook.com/artintheloop
# # #
Contacts:
Art in the Loop
Ann Holliday, Program Director, ann@downtownkc.org, (c) 816-718-1355
Marissa Starke, Visual Arts Director, marissastarke@gmail.com, (c) 816-519-4236
Jade Osborne, Performing Arts Director, jademuse@gmail.com
KC Streetcar
Donna Mandelbaum, Communications & Marketing Director, dmandelbaum@kcstreetcar.org, (c) 816-877-3219
https://www.artintheloop.com/wp-content/uploads/2023/06/Party-Balloons-800x800-2.webp
800
800
Keaton Lewis
https://www.artintheloop.com/wp-content/uploads/2020/07/cropped-2020ArtLoopLogoAll2-180x180.jpg
Keaton Lewis
2023-07-06 20:42:40
2023-07-24 10:52:31
'Party Balloons' Interview with BubbleGum Kurt