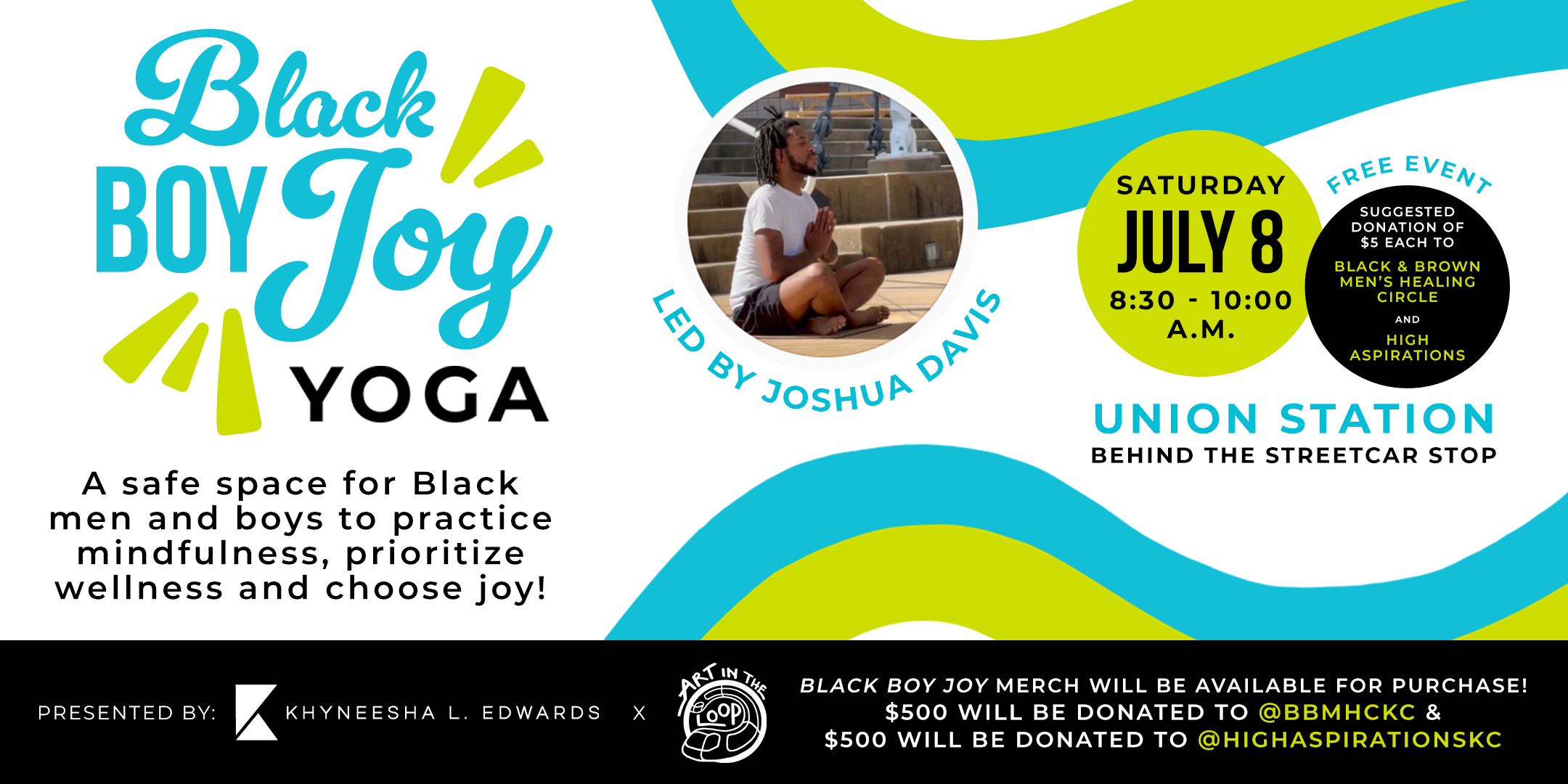 Join us for a morning of mindfulness
2023 Art In the Loop Event, July 8, 8:30 a.m. at the Union Station Streetcar Stop
(Kansas City, Missouri) – The Art in the Loop Foundation is pleased to host a morning of yoga, thanks to local artist, Khyneesha Edwards, on Saturday, July 8, from 8:30 to 10:00 a.m. at the Union Station Streetcar Stop, located near Pershing and Main in Downtown Kansas City. This event requires a reservation and is free. 
Black boys and men deserve healing, so let's heal together – claiming joy is a great place to start! Khyneesha Edwards, graphic designer and 2023 Art in the Loop Visual Artist, invites Black men and boys, across Kansas City to take part in Black Boy Joy Yoga. While all are welcome, this event was created to be a safe space for Black men and boys as they practice mindfulness and prioritize wellness, with the 'Black Boy Joy' streetcar art as a backdrop.
Black Boy Joy Yoga will be led by yogi, Joshua Davis. This beginner-friendly session will include breath work, meditation, grounding poses, and guiding commentary about claiming joy. The minimum age to participate is 5 years old. Children 5-12 must be accompanied by a guardian.
A few other things to note:
Dress in cool, breathable clothing

Water will be provided, but we suggest bringing a water bottle for backup hydration

Don't forget your own yoga mat! If you don't have a yoga mat, a firm rug or thick blanket will do. We'll have a few extra yoga mats on hand, but we can't guarantee enough for everyone.

Come with an open heart and an open mind! Yoga is about finding and embracing home, peace, power and joy within yourself, in whatever way that looks like for you.
Learn more about the Black Boy Joy streetcar stop art HERE
Register here! MUST BE REGISTERED TO ATTEND.
The 2023 Art in the Loop Project is made possible through the generous support of the KC Streetcar Authority, Henderson Engineers, JE Dunn, Stinson LLP, and other corporate partners. This project is funded in part by the City of Kansas City, Missouri Neighborhood Tourist Development Fund, as well as by awards from the Missouri Arts Council, ArtsKC, and the Richard J. Stern Foundation for the Arts – Commerce Bank Trustee.
---
Project partners include the Downtown Council, Downtown Community Improvement Districts, KC Streetcar Authority, and the Kansas City Art Institute.
For more information about the project and the artists, visit www.artintheloop.com or www.facebook.com/artintheloop
# # #
Contacts:
Art in the Loop
Ann Holliday, Program Director, ann@downtownkc.org, (c) 816-718-1355
Marissa Starke, Visual Arts Director, marissastarke@gmail.com, (c) 816-519-4236
Jade Osborne, Performing Arts Director, jademuse@gmail.com
KC Streetcar
Donna Mandelbaum, Communications & Marketing Director, dmandelbaum@kcstreetcar.org, (c) 816-877-3219
https://www.artintheloop.com/wp-content/uploads/2023/06/BBJ-TimelineGraphic.png
1080
1080
Keaton Lewis
https://www.artintheloop.com/wp-content/uploads/2020/07/cropped-2020ArtLoopLogoAll2-180x180.jpg
Keaton Lewis
2023-07-06 20:39:05
2023-07-06 20:39:05
Black Boy Joy Yoga