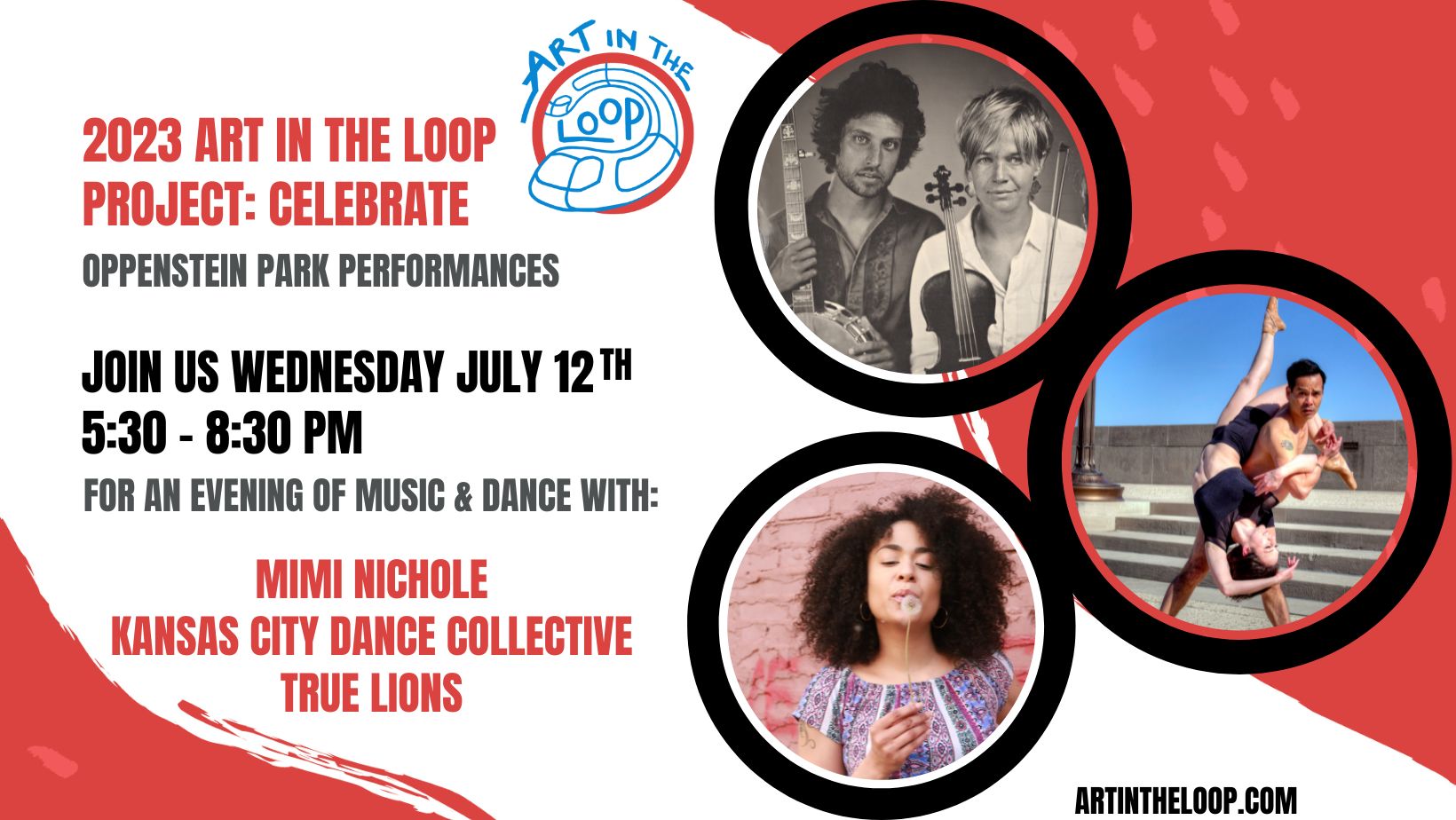 Join us for a Celebration of Music & Dance in the Park
2023 Art In the Loop Performance, July 12, 5:30 p.m. in Oppenstein Park
(Kansas City, Missouri) – The Art in the Loop Foundation is pleased to host an evening of multidisciplinary performances by local artists on Wednesday, July 12, from 5:30 to 8:00 p.m. in Oppenstein Park, located at 12th & Walnut in Downtown Kansas City. This event is free, family-friendly, accessible, and open to the public. Attendees are encouraged to bring folding chairs, blankets, refreshments, and friends!
This year marks the tenth year for the Art in the Loop project, and along with the beautiful visual art along the KC Streetcar stops and wraps one KC Streetcar, there is a robust performance series with delightful public performances. This event will include music and dance performances featuring local Kansas City artists. In the event of rain or inclement weather, the performances will be moved to 1111 Main Street on the KC Streetcar route.
The following artists will be performing at the July 12th Oppenstein Park event. More information about each of these artists can be found at www.artintheloop.com.
Mimi Nichole: Mimi Nichole performs as a solo vocalist. Her ultimate career goal is to capture the attention of the world one song at a time. With her passion for music and humanity, Mimi plans to bring back music with substance, and real truths. She aims to create timeless sounds that forever bask in the vibrations of the universe.
Kansas City Dance Collective: A local dance company whose choreography celebrates Kansas City's Jazz History with big band 1920's themed music and character work adding that classic 1920s prohibition-era Jazz style that the city loves to embrace.
True Lions: Al Hawkins and Fritz Hutchison make the band True Lions. They are experimental, queer artists and multi-instrumentalists in KCK. They're a punk folk duo specializing in regionally-specific Ozark old-time interpreted as noise art.
Artists responded to the 2023 theme of "Celebrate" and addressed questions about how one defines celebration, what are the intersections between art, performance, and celebration and ways one can celebrate Downtown Kansas City.
The 2023 Art in the Loop Project is made possible through the generous support of the KC Streetcar Authority, Henderson Engineers, JE Dunn, Stinson LLP, and other corporate partners. This project is funded in part by the City of Kansas City, Missouri Neighborhood Tourist Development Fund, as well as by awards from the Missouri Arts Council, ArtsKC, and the Richard J. Stern Foundation for the Arts – Commerce Bank Trustee.
Project partners include the Downtown Council, Downtown Community Improvement Districts, KC Streetcar Authority, and the Kansas City Art Institute.
For more information about the project and the artists, visit www.artintheloop.com or www.facebook.com/artintheloop
# # #
Contacts:
Art in the Loop
Ann Holliday, Program Director, ann@downtownkc.org, (c) 816-718-1355
Marissa Starke, Visual Arts Director, marissastarke@gmail.com, (c) 816-519-4236
Jade Osborne, Performing Arts Director, jademuse@gmail.com
KC Streetcar
Donna Mandelbaum, Communications & Marketing Director, dmandelbaum@kcstreetcar.org, (c) 816-877-3219