Love Who You Love by Angie Jennings
Love Who You Love is a phrase that I live by and that I hear a lot in conversation with friends. I chose this particular image to match the theme of resilience. It depicts friends of mine, Krista and Helen, on their wedding day. Two years after Krista had come through the worst of her battle against cancer, she met Helen through the Kansas City Lesbians Facebook Discussion Group where they shared their love for motorcycles. I was asked to photograph their wedding 2 years after they met. This image is a reminder that all that matters is that you love who you love and to not let society dictate it to you. 
Location
KC Streetcar Power & Light District Stop, Southbound
14th & Main Street
Bio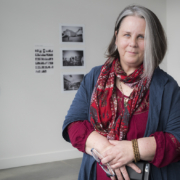 Angie Jennings has been a photographer for over 30 years. She is the president of the Kansas City Society for Contemporary Photography and has exhibited extensively in the Kansas City region, Nebraska, Oregon, Oklahoma, Vermont, Colorado, and Beijing, China. She was awarded two Artist Inc. fellowships, a Charlotte Street Start-Up Residency, honorable mention in the 13th Annual Pollux Award and 16th Annual Julia Margaret Cameron Award for Women Photographers, as well as a 2019 public art grant through Art in the Loop.